Dr. Sebi Cure for Herpes and HIV: The Original American Stars Guide to Treat Herpes and HIV Using Plants and Herbs. Live Your Love Life Without Worrie (Paperback)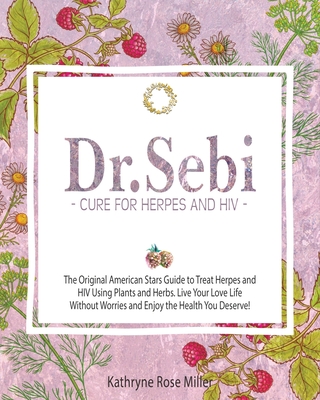 Description
---
Do you want to treat herpes?Do you want to cure HIV?Do you want a sex life like before?
If you are looking to get rid of these problems, then keep on reading...
This book is a tribute to the efforts of Dr.Sebi that he did to treat viruses like Herpes, Simplex, and HIV. Herpes mainly is a virus that is incurable, and scientists are still unable to find a permanent cure for treating it. At the start of this book, you'll find information about what Herpes virus is, and in the second half of it, you'll get knowledge about HIV.

You'll get to know what are the current treatment options in the world for treating and managing Herpes and HIV. You'll find a detailed explanation of Dr. Sebi's method of treating and managing herpes and HIV, the benefits of using his alkaline diet, and the process by which these foods and herbs help a person treat Herpes and HIV.
Understand that this may seem all too good to be true or that it's telling you modern medicine is completely bad. You will find that Dr. Sebi never tells you to stop taking medicines prescribed by doctors. Instead, you will use his diet, products, and treatments, along with your doctor's orders to help you heal.
The main key points of this book are:
Treating Herpes and HIV by Dr.Sebi's diet
The approved plants and herbs he used for American Stars
Methodology and benefit of his diet
Current treatment options
Researches on finding a cure
List of food items and supplements
Use of herbs and oils to treat herpes and HIV
Instructions to live a healthier life
⚠ Right now, you have to make a decision ⚠

Are you going to continue to live the way you are, possibly suffering from something your doctor says

they can't do anything about or are you going to change the way you eat and heal your body?
So, do not Wait Click the Buy Now Button and Grab Your Copy Now