Missions to Mars: A New Era of Rover and Spacecraft Discovery on the Red Planet (MP3 CD)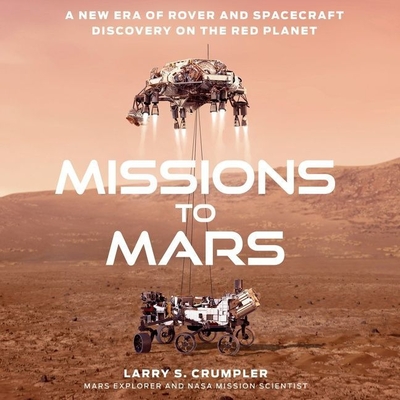 Description
---
From a long-term planning lead for the Mars Exploration Rover Project comes this vivid insider account of some of NASA's most vital and exciting missions to the Red Planet--a wondrous chronicle of unprecedented scientific discovery and the search for evidence of life on Mars.
There are probably just a few of moments in human history when a small group of humans stood on the margins of a vast new world, and it is no stretch of the romantic imagination that the arrival of two rovers on the surface of another planet was surely one of them.
Human exploration of Mars is the most ambitious and exciting scientific goal of the twenty-first century. Few people know as much about this fascinating planet as Dr. Larry Crumpler. As one of the long-term planning leads for the Mars Exploration Rover Project, he helped control the daily communications between NASA and the rovers roaming the planet to gather scientific data. Thanks to the Rover Project, we now know that the dry, red dust of the planet's surface hides a wet, possibly living history, and that conditions were present for the evolution of complex, organic life.
In this magnificent compendium, Dr. Crumpler recounts the history of the Red Planet, from the earliest days when ancient astronomers turned their eyes to the heavens to the breakthrough discoveries being unearthed by modern technology today, including some of the first images from the latest rover, Perseverance. This magnificent biography of the red planet allows us to understand and experience it as never before.
When the Spirit and Opportunity Rovers landed on Mars in January 2004, scientists expected them to function for 90 days. But those three months turned into fifteen years. With data gathered by the rovers, Dr. Crumpler and his fellow team members were able to reconstruct the planet's stunning geological past, when it was once inundated with water, and perhaps could have supported microbial life. Dr Crumpler also reveals the joys and demands of life as a scientist taking part in these historic missions. Exploring fundamental questions about this remarkable planet that have intrigued us earthlings for years, Untitled illuminates Mars' significance in the solar system--and the human imagination.
Supplemental enhancement PDF accompanies the audiobook.
UPB open Tuesday through Friday 1PM - 6PM, Saturday Noon - 5pm
2430 Bancroft Way
The store known for serving pure brain food has returned to our old digs for a few months to sell down inventory and bid fare thee well to our decades of in-store customers.
Days and hours subject to change.
Note: This site lists what's available for special order from Ingram Content Group.
Visit our pages at Alibris or Biblio to survey in-store stock priced above $19.95.
Discount applies only to in-store purchases.
Cafe Ohlone
Once hosted by UPB, Cafe Ohlone now serves guests outside the Hearst Museum of Anthropology on the Cal campus.
Savor the foods which characterized east bay cuisine for thousands of years, before European contact. Brought to you by Mak'amham.