Innovation, Style and Spectacle in Wayang: Purbo Asmoro and the Evolution of an Indonesian Performing Art (Paperback)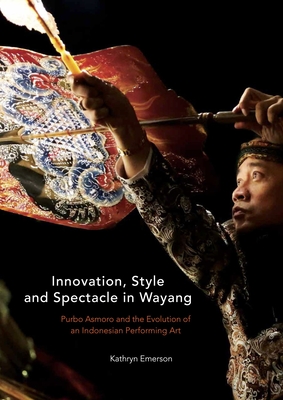 Description
---
A richly illustrated study of wayang, the traditional puppet theater form of Java, based on unprecedented decades-long participatory research.
 
Wayang, the traditional puppet theater form of Java, fascinates and endures thanks to the many ways it works as a medium—bearing the weight of Javanese culture and tradition as a key component of rites of passage, as a medium of ritual and spiritual practice, as public spectacle, and as entertainment of the broadest sort, performed live, broadcast, or streamed. Over the past forty years, the form has been subject to a great deal of experimentation and innovation, pulled in many directions within an ever-changing media landscape. In this book, Kathryn Anne Emerson outlines both significant contributions by a number of key figures and the social and political influences propelling such innovations. She also describes deeper and more lasting changes in wayang, based on what the art form's most accomplished practitioners have to say about it. At the core of the book is one pivotal figure, Purbo Asmoro of the Indonesian Institute of the Arts in Surakarta, who, Emerson argues, has taken the individual and singular innovations of the era and integrated them into a new system of performance practice, one that has shaped the key Surakarta school of performance. Grounded in an unprecedented, decades-long participatory research project involving hundreds of interlocutors, the book is beautifully illustrated and will be of considerable interest in Indonesian studies.
 
About the Author
---
Kathryn Emerson is a performance translator of wayang kulit and runs an art center in Solo, Central Java.
Praise For…
---
"It must be said that the author has put a lot of time and devotion in this study as she attended or watched hundreds of wayang performances all over Java in a period of around 20 years. The result is a fascinating book that shows a light in how one of Java's best and most renowned dalang found his own style."
— The Review