Amor Vs Codependencia: Vive tus relaciones en plenitud / Love vs. Codependency (Paperback)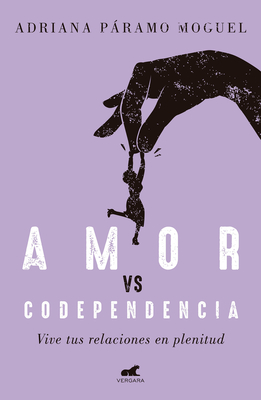 Description
---
"Lo que te ofrezco es darte las herramientas para que hagas consciente lo inconsciente, que sepas por qué te relacionas de una forma determinada, para qué estás con un tipo de personas en específico, cuáles son los resortes que te mueven a reaccionar como lo haces".

¿Te has preguntado dónde termina el amor y empieza la codependencia? Adriana Páramo analiza las razones de fondo que determinan la manera en que amamos. En gran medida, todo se remite a nuestra niñez. Lo que aprendimos en los primeros años impone cómo afrontamos la vida de adultos... pero nada está perdido, aún es posible amar de otra manera y acabar con las manías.

Este libro va más allá del lugar común, porque todos sabemos que "primero debemos amarnos a nosotros mismos para amar a otros" pero pocos conocen cómo hacerlo. Desde un punto de vista psicológico y con enfoque emocional, la autora nos explica cómo transformar nuestras ideas sobre el amor romántico.

ENGLISH DESCRIPTION

"What I can offer you are the tools to make conscious that which is subconscious, to know why you relate with people in a certain way, why you are with a specific kind of person, what moves you to react in the way you do."

Have you ever asked yourself where love ends and codependency begins? Adriana Páramo analyzes the underlying reasons that determine the way we love. For the most part, everything goes back to our childhood. What we learn in our first years sets up the way we face life as an adult. But nothing is lost; it is still possible to love in another way and put aside manias.

This book goes beyond the cliché, because we all know that "to love others we must first love ourselves," but few actually know how to do that. From a psychological point of view and with a focus on emotions, the author explains how to transform our ideas about romantic love.
About the Author
---
Adriana Páramo Moguel nació en Irapuato, Guanajuato. Es licenciada en Ciencias de la comunicación, escritora, conferencista, coach de vida y presidenta de Sociedad Incorporada A.C., organización que se une a la lucha contra las condiciones que generan violencia, inseguridad y adicciones entre la población vulnerable. Ha ofrecido cursos y conferencias en diversos escenarios. Creadora de las cápsulas Un abrazo al corazón, en Radio Fórmula. Ha participado en el programa Hoy, de Televisa, y en 34 Noticias. Autora de Yo, dragón, Un abrazo al corazón, Cuaderno de trabajo de Un abrazo al corazón y La ciencia del éxito.

@AdrianaParamo

www.adrianaparamo.com