Before you buy…
We're glad to again serve customers, even though our former store front has closed and we operate this web store under reduced services.
Just scroll to the bottom to review limits placed on orders. .
The Art of War (Paperback)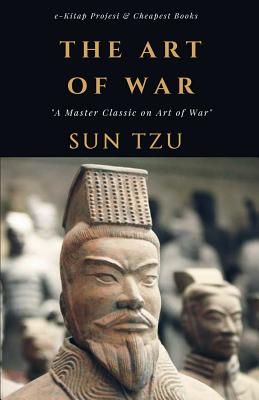 $9.99
Ships from Warehouse, Usually in 1-8 Days
Description
---
The Art of War is an ancient Chinese military treatise dating from the Late Spring and Autumn Period (roughly 5th century BC). The work, which is attributed to the ancient Chinese military strategist Sun Tzu ("Master Sun", also spelled Sunzi), is composed of 13 chapters. Each one is devoted to an aspect of warfare and how it applies to military strategy and tactics.
For almost 1,500 years it was the lead text in an anthology that would be formalised as the Seven Military Classics by Emperor Shenzong of Song in 1080. The Art of War remains the most influential strategy text in East Asian warfare and has influenced both Eastern and Western military thinking, business tactics, legal strategy and beyond.
Scholars do not know how The Art of War came to be--and whether or not "Sun Tzu," if he existed, had anything to do with its creation. What they do know is that copies of the book, typically written on sets of sewn-together bamboo slats, ended up in the hands of politicians, military leaders and scholars across China. From there, translated copies of "Sun Tzu's" work found their way to Korea and Japan. (The oldest Japanese version dates from the 8th century A.D.)
For more than 1,000 years, rulers and scholars across Asia consulted The Art of War as they plotted their military maneuvers and imperial conquests. Japanese samurai, for example, studied it closely. However, it did not reach the Western world until the end of the 18th century, when a Jesuit missionary translated the book into French. (Historians say that the French emperor Napoleon was the first Western leader to follow its teachings.) It was finally translated into English in 1905.
INTRODUCTION:
Sun Tzu Wu was a native of the Ch i State. His Art of War brought him to the notice of Ho Lu, King of Wu. Ho Lu said to him: "I have carefully perused your 13 chapters. May I submit your theory of managing soldiers to a slight test?"
Sun Tzu replied: "You may."
Ho Lu asked: "May the test be applied to women?"
The answer was again in the affirmative, so arrangements were made to bring 180 ladies out of the Palace. Sun Tzu divided them into two companies, and placed one of the King's favourite concubines at the head of each. He then bade them all take spears in their hands, and addressed them thus: "I presume you know the difference between front and back, right hand and left hand?"
The girls replied: "Yes."
Sun Tzu went on: "When I say 'Eyes front, ' you must look straight ahead. When I say 'Left turn, ' you must face towards your left hand. When I say 'Right turn, ' you must face towards your right hand. When I say 'About turn, ' you must face right round towards your back."
Again the girls assented. The words of command having been thus explained, he set up the halberds and battle-axes in order to begin the drill. Then, to the sound of drums, he gave the order "Right turn." But the girls only burst out laughing. Sun Tzu said: "If words of command are not clear and distinct, if orders are not thoroughly understood, then the general is to blame."
STOREFRONT CLOSED FOR REGULAR BUSINESS
Nevertheless, UPB provides ship-to-home service.
Unless and until we move our on-line fulfillment team to different premises, everything you purchase from us ships from warehouses outside of Berkeley.
Much of what we used to carry on store shelves is available, except for very expensive books, used books, and titles fallen between printings.
Certain limitations apply:
Only orders that subtotal under $75.00 will ship.
Thus, we may remove items from a multi-book order and ask you to resubmit them on a separate order.
Sometimes we may have to split an order because books are stocked at different warehouses. Sorry, it's impossible to tell in advance when this may happen.
Credit card orders only
Many high demand titles ship fairly quickly. Most other titles travel from back east, adding 2 to 5 days to delivery
Although we love you in Canada, Latin America, and else where, U.S. orders only.
Certain publishers give us low merchant discounts on certain titles, sometimes no discount at all. To be honest, we've had to raise prices on these, ranging from 5% to 30% above list.
You can also purchase eBooks and audio books through us. Distributed by Hummingbird, they include publications from the major trade publishers. Just access the menu link or the sidebar image above.
We greatly appreciate your support of the store with your book orders. Need a book without our current shopping restrictions? We recommend Bookshop. View our recommendations on Bookshop, then search for whatever book you'd like.
---
Should you have questions, email us via our contact form. Since none of are keeping regular hours, it may take a day to get back with you.
The Cafe Ohlone has closed for the duration of the epidemic. They will probably reopen at a different location when they do.
From 1974, University Press Books has stoked the blaze of well over ten thousand minds on fire, carrying new scholarship published by the great university presses in the English-speaking world.
Since our founding, we've added quality fiction and creative non-fiction to our selection, without drfiting from our mission to showcase top new texts introduced by university presses.
Order from us. Visit us. Let well-wrought words churn and burn within.