Miniature Moss Gardens: Create Your Own Japanese Container Gardens (Bonsai, Kokedama, Terrariums & Dish Gardens) (Hardcover)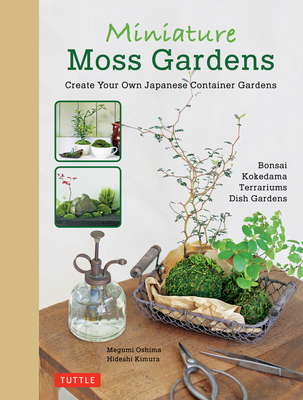 $19.95

Ships from Warehouse, Usually in 1-8 Days
Description
---
Miniature Moss Gardens presents expert advice and techniques from the birthplace of miniature gardening—Japan.
Friendly enough for total beginners and full of ideas and tips that experienced gardeners will love to read about, this moss gardening book brings you information on the following:
Finding and collecting moss
Cultivation and maintenance
Choosing soils and other components
Designing your garden for visual effect
Choosing the best plants for your mini garden
How to make a perfect Kokedama or moss ball
Enhancing your moss garden with rocks and other elements
How to make a gorgeous terrarium
and much more!
A section on finding moss on city streets, parks and mountains opens your eyes to the beauty that's all around you every day! Moss can be gathered to make a complete and perfect miniature gardening world. Let this fun Japanese gardening book set you on the path to a deeply satisfying new way of expressing yourself.
With full-color photographs and step-by-step instructions, you will be creating your own Moss Garden in no time!
About the Author
---
Megumi Oshima was born in Saitama Prefecture. Raised among abundant nature in the countryside near the Tonegawa River, Oshima became familiar with plants. While working for a production company, she started to grow bonsai and kokedama on the balcony of her Tokyo apartment. Oshima left her production company job and began working in garden management for flower markets and hotels. In 2006 she opened garden store Midoriya Nicogusa in Kichijoji, Tokyo, and began running workshops on bonsai and kokedama. Oshima is a plant consultant and interior coordinator.

Hideshi Kimura is a member of Japan Horticulture Society Tray Landscape Artist. After obtaining his bonsai master license, he began making moss tray landscapes more than 20 years ago and to date has made more than 2000 works. Not limited to bonsai pots, he has received acclaim for his original designs, which incorporate driftwood, bamboo and so on as receptacles. Kimura runs moss tray classes and is an instructor at Minamisunamachi Culture Center in Tokyo's Koto ward.
Praise For…
---
"All the information you could want about moss is included in this book: parts of moss, types of moss, when to gather moss and tools for collecting moss and for creating your own miniature moss garden…Even if you've never considered starting a moss garden, this book will make you into a moss fan. This beautiful, informative, and fun book is well worth reading." —San Francisco Book Review

"You can create your own miniature masterpiece with help from Megumi Oshima and Hideshi Kimura." —Garden Design Magazine

"…once one starts reading it, one realizes the wealth of information and advice to which one now has access." —The Journal of the Japanese Garden Society

"This is a charming book that encourages everyone with a busy life to let eternal green moss soothe the soul. More than just touchy-feely, the 128-page hardback book is an informative, descriptive guide to the art and science of growing the soft, clumping plant." —The Oregonian

"Readers will ooh and ah while riffling through the pages of Oshima and Kimura's illustrated guide to miniature Japanese moss gardens." —Publishers Weekly

"I'd highly recommend this book for gardeners or nongardeners looking to green up their homes, office spaces, or small gardens." —Washington Gardener magazine

"I full heartedly recommend this book. Having found a good bonsai store online and with the clear and beautiful illustrations at my side, I feel that even I could make a simple miniature moss garden." —Gardening Products Review

"If you need more calm, green, space in your home, then you should take a look at Miniature Moss Gardens: Create Your Own Japanese Container Gardens. This beautifully illustrated book contains tons of photographs and illustrations to help you learn all about different kinds of moss and the small container gardens they can be used in." —Seattle Book Review
UPB open Tuesday through Friday 1PM - 6PM, Saturday Noon - 5pm
2430 Bancroft Way
The store known for serving pure brain food has returned to our old digs for a few months to sell down inventory and bid fare thee well to our decades of in-store customers.
Days and hours subject to change.
Note: This site lists what's available for special order from Ingram Content Group.
Visit our pages at Alibris or Biblio to survey in-store stock priced above $19.95.
Discount applies only to in-store purchases.
Cafe Ohlone
Once hosted by UPB, Cafe Ohlone now serves guests outside the Hearst Museum of Anthropology on the Cal campus.
Savor the foods which characterized east bay cuisine for thousands of years, before European contact. Brought to you by Mak'amham.