Coloring Books For Boys Cars and Vehicles: Amazing Cars, Trucks, Planes and Trains for Boys, Coloring Age 3-8 4-8.Cool Designs for Children Best Gift (Large Print / Hardcover)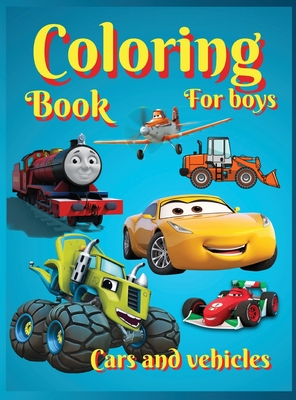 Description
---
(R) Unleash your kid's creativity and attention to detail with 48 unique coloring pages with Cars Trucks and more Vehicles.
Our Cars and Vehicles coloring book content 48 unique coloring page with a cool and detailed Vehicles. This book is perfect for the little ones in your life The wonderful imagines in this Cars and Vehicles coloring book will provide relaxation and creativity hours. You will find more beautiful, fun, Vehicles illustrations. This coloring book helps your children to stimulate their creativity and imagination, for children it's very important to exercise their imagination, and this book helps them to do that, and it's perfect for boys and girls ages 3-8 who love Cars and Vehicles.
♥ Get this Perfect Gift for the little ones and share Cars and Vehicles' fun and excitement.
Our Cars and Vehicles coloring book features:
✓ Each coloring page is printed on a separate page to avoid bleed-through.
✓ Large print pages with lots of Cars and Vehicles, for your child
✓ Suitable for crayons, markers, and colored pencils, as a great kids coloring book
✓ Large 8.5x11'' format professional quality designs
✓ The book has 100 pages.
★ Coloring books make a wonderful gift for your little ones. Our coloring books are frequently one of the most gifted items.