Christmas delivery ends December 13th
We much appreciate how you've made UPB your holiday shopping destination.
Keep in mind, though, that it can take time for books to arrive at your desired shipping address. Sometimes titles have to cross the country from their warehouse location.
Therefore we recommend that you place your gift orders by December 13th to maximize delivery chances before December 25th.
Virus Mania: Corona/COVID-19, Measles, Swine Flu, Cervical Cancer, Avian Flu, SARS, BSE, Hepatitis C, AIDS, Polio. How the Medical (Paperback)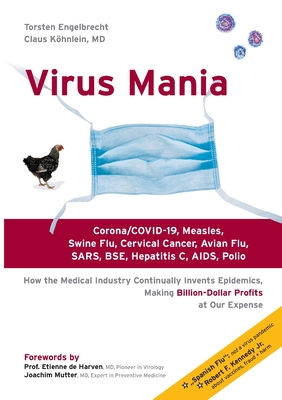 Description
---
If one follows public pronouncements, the world is repeatedly afflicted with new terrible virus diseases. As the latest horror variant, the so-called coronavirus SARS-CoV-2 dominated the headlines. The population is also terrified by reports of measles, swine flu, SARS, BSE, AIDS or polio. However, The authors of Virus Mania, journalist Torsten Engelbrecht and doctor of internal medicine Claus K hnlein, MD, show that this fannning of fear is totally unfounded and that virus mayhem ignores very basic scientific facts: the existence, the pathogenicity and the deadly effects of these agents have never been proven. The book "Virus Mania" will also outline how modern medicine has pushed direct virus proof methods aside and uses dubious indirect tools to "prove" the existence of viruses such as antibody tests and the polymerase chain reaction (PCR). The alleged contagious viruses may be, in fact, also be seen as particles produced by the cells themselves as a consequence of certain stress factors such as drugs. These particles are then identified by antibody and PCR tests and interpreted as epidemic-causing viruses by doctors who have been inoculated for over 100 years by the theory that microbes are deadly and only modern medications and vaccines will protect us from virus pandemics. The central aim of this book is to steer the discussion back to a real scientific debate and put medicine back on the path of an impartial analysis of the facts. It will put medical experiments, clinical trials, statistics and government policies under the microscope, revealing that the people charged with protecting our health and safety have deviated from this path. Along the way, Engelbrecht and K hnlein will analyze all possible causes of illness such as pharmaceuticals, lifestyle drugs, pesticides, heavy metals, pollution, stress and processed (and sometimes genetically modified) foods. All of these can heavily damage the body of humans and animals and even kill them. And precisely th.