Tomorrow the Manifold: Essays on Foucault, Anarchy, and the Singularization to Come (Reiner Schürmann Lecture Notes) (Paperback)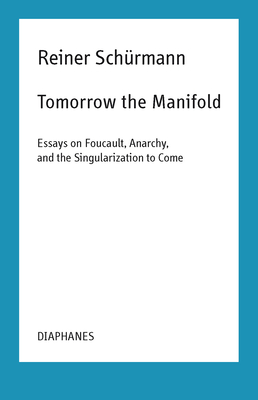 List Price: $30.00
Our Price: $24.00
(Save: $6.00 20%)
Description
---
This volume tracks the crucial role of Reiner Schürmann's engagement with the work of Michel Foucault between 1983 and 1991. Drawing on Foucault's highly original reading of the philosophical tradition, Schürmann traces the status of identity and difference in Foucault's conception of history to develop a radical phenomenological understanding of anarchy. He examines the fate of philosophy after the critique of the subject and the collapse of the divide between theory and praxis, philosophy and politics.
            Taken together, these pivotal essays introduce the reader to Schürmann's most urgent concerns and assemble the conceptual tools that go on to lay the groundwork for his final work, Broken Hegemonies, which offers a subversive re-reading of the history of Western metaphysics outside of Foucault's genealogical approach. To the reader unfamiliar with Schürmann's work, these texts establish him as one of the most radical thinkers of the late 20th century, whose work might eventually become legible in our present.
About the Author
---
Reiner Schürmann (1941–93) was a German philosopher. He was born in Amsterdam and lived in Germany, Israel, and France before immigrating to the United States in the 1970s, where he was professor and director of the Department of Philosophy at the New School for Social Research in New York. He is the author of three books on philosophy: Heidegger on Being and Acting, Wandering Joy, and Broken Hegemonies.
 
Malte Fabian Rauch is an art theorist, philosopher, and translator based in Berlin.
Nicolas Schneider is a translator, editor, and philosopher based in Brussels.
Praise For…
---
"Rauch and Schneider's collection of Reiner Schürmann's essays confirms the growing recognition of the timeliness of his philosophising and the profound radicalism of his critique of philosophical and cultural modernity. It serves as a provocative introduction to his views on anarchy, law and modernity as well an indispensable supplement to the detailed historical analyses of Broken Hegemonies. The collection offers unique insight into the political investments informing Schürmann's history of metaphysics as the institution and destitution of principled regimes as well as clarifying his sense of the contemporary break with or 'diremption' of this history and the emergent promise of a life and thought of anarchic joy."
— Howard Caygill, Professor of Modern European Philosophy, CRMEP, Kingston University, London