Women and the Challenge of Stem Professions: Thriving in a Chilly Climate (International and Cultural Psychology) (Hardcover)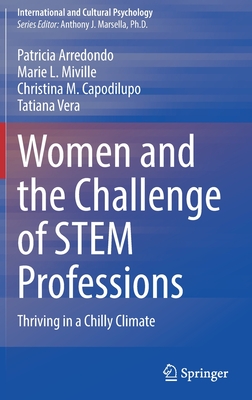 $107.99

Ships from Warehouse, Usually in 1-8 Days
Description
---
This timely volume identifies factors that impede the success of women in STEM professions and demonstrates the negative impact of sexual harassment on women's physical health, mental health, and job performance. Focusing specifically on the narratives of women in higher education, the authors illuminate the structural and systemic barriers facing women working as graduate students, faculty, and administrators. Drawing on insights from the #metoo and #timesup movements as well as the Brett Kavanaugh Senate hearings, this book:
Provides real-life narratives as clarifying examples
Validates the experiences of women struggling to negotiate the STEM workplace
Recommends specific helpful practices for both women and employers
.This book will be a valuable resource for those in academia and the workplace, and serve as an illuminating of women's experience generally.
About the Author
---
Dr. Patricia Arredondo has dedicated her career to advancing multicultural competency development and social justice principles in organizations. Author/co-author of seven books and more than 100 refereed journal articles, book chapters, and training videos, she has presented her work in China, the Dominican Republic, Egypt, Guatemala, Qatar, South Africa, and other countries. She is co-author of major multicultural counseling documents (Sue, Arredondo & McDavis, 1992; Arredondo, et al., 1996). Her books include Successful Diversity Management Initiatives, Counseling Latinas/os (co-authored), and her newest book Latinx Immigrants: Transcending Acculturation and Xenophobia (2018.). Her current research addresses gender-racial microaggressions in the workplace and Latina leadership competencies in higher education administration. For more than 15 years, Dr. Arredondo held senior leadership roles in higher education. She was president of The Chicago School of Professional Psychology, Chicago campus, Associate Vice Chancellor for Academic Affairs, University of Wisconsin-Milwaukee UWM), and Senior Vice President for Institutional Initiatives, Arizona State University (ASU). She was also a full professor with ASU and UWM. For four years, she was Co-PI for an NSF-funded academic leadership program for women of color in STEM at Historically Black Colleges and Universities and Tribal Colleges with Fielding University. Current servant leadership includes being a board member with the American Association of Hispanics in Higher Education, DiversityMBA, the Marie Fielder Social Justice Center, and the Latina Researchers Network. Dr. Arredondo is a Fellow of ACA and APA and was designated a Living Legend by ACA for her scholarship in multicultural competency development. For her leadership and scholarship in psychology, she was recognized as a Changemaker: Top 25 Psychologists of Color by the American Psychological Association in 2018. Dr. Arredondo is the recipient of many awards for her servant leadership as a social justice and inclusive diversity advocate. In 2018, she was the recipient of the Anthony J. Marsella Social Justice award from Psychologists for Social Responsibility. Additionally, she received the Leader of Color Award from Chicago-United in 2016, Hispanic Executive Award in 2014, and an honorary degree from the University of San Diego. Currently, Dr. Arredondo is president of the Arredondo Advisory Group and Faculty Fellow with Fielding Graduate University. She is also on the faculty of the New Leadership Academy hosted by the University of Michigan. Her doctoral degree in Counseling Psychology is from Boston University. She is a licensed psychologist and National Certified Counselor. Dr. Arredondo is of Mexican American heritage, originally from Lorain, Ohio. Marie Miville, PhD is a full professor with Columbia University. She is the author of two books and over 65 journal articles and book chapters dealing with multicultural issues in counseling and psychology. Dr. Miville is Associate Editor of the Journal of Multicultural Counseling and Development and is serving or has served on several other editorial boards. Dr. Miville is the Past-President of the National Latinx Psychological Association (NLPA), the Book Series Editor for APA Division 44, and previously served as Vice President for Education and Training for the American Psychological Association (APA) Division 17 (2013-2016). She is an APA Fellow Division 17 & 45. Christina Capodilupo, PhD earned her doctorate in Counseling Psychology from Teachers College. She is an adjunct professor in New York City institutions and in private practice. Her areas of specialization include cultural competency development and microaggressions across gender and racial identities. She has several highly used journal articles and book chapter on microaggressions. Tatiana Vera, B.A., is a doctoral student in the Department of Counseling and Clinical Psychology at Teachers College, Columbia University. She has a B.A. degree in psychology with a minor in Spanish literature and cultures from Barnard College and was an Athena Leadership Scholar/Collegiate Science and Technology Entry Program Scholar.