Stoic Philosophy and Social Theory (Hardcover)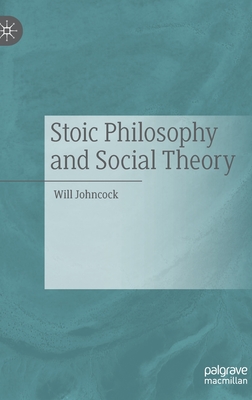 $131.99

Ships from Warehouse, Usually in 1-8 Days
Description
---
1. Introduction.
Essential versus External Social Being.
I. Subjectivity
2. Who Controls Your Thoughts?
Epictetus and mile Durkheim on Mental Structure.
3. When Are You Present?
Chrysippus and Henri Bergson on Continuous Time.
4. Why Do You Care about Yourself?
The Early Stoics and Herbert Spencer on Self-Preservation.
II. Knowledges and Epistemologies
5. Do Preconceptions Determine New Knowledge?
Epictetus and Max Weber on Truth.
6. Do People Know Why They Travel?
Seneca and Anthony Giddens on Ignorance.
III. Physical Conditions
7. Is Climate Change Natural?
Marcus Aurelius and Barbara Adam on Death.
8. What Causes Your Behaviors?
Zeno and Pierre Bourdieu on the Body.
IV. Collective Ethics
9. How Do We Regulate Our Affection for Others?
Hierocles and Claude L vi-Strauss on Kinship Circles.
10. Can Education Be Egalitarian?
Musonius Rufus and Julia Kristeva on Gendered Labor.
11. Is It Natural to Be Social?
Marcus Aurelius and George Herbert Mead on Socialization.
V. Emotions
12. Is Reason External to Passion?
Posidonius, Ann Game, and Andrew Metcalfe on Self-Division.
13. Who Benefits from the Management of Feelings?
Epictetus and Arlie Hochschild on Emotional Labor.
14. How Individual Is Happiness?
Chrysippus and Harriet Martineau on the Universal End.
About the Author
---
Will Johncock researches social theory, continental philosophy, and Stoic philosophy, with a particular interest in themes concerning time. He is the author of Naturally Late: Synchronization in Socially Constructed Times (2019) which studies how social science and philosophy differentiate natural time from human time structures. He has lectured at UNSW Sydney.