Forget the Alamo: The Rise and Fall of an American Myth (Hardcover)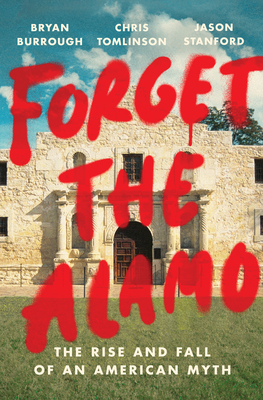 $32.00

Ships from Warehouse, Usually in 1-8 Days
Description
---
A New York Times bestseller!

"Lively and absorbing. . ." — The New York Times Book Review

"Engrossing." —Wall Street Journal

"Entertaining and well-researched . . . " —Houston Chronicle

Three noted Texan writers combine forces to tell the real story of the Alamo, dispelling the myths, exploring why they had their day for so long, and explaining why the ugly fight about its meaning is now coming to a head.

Every nation needs its creation myth, and since Texas was a nation before it was a state, it's no surprise that its myths bite deep. There's no piece of history more important to Texans than the Battle of the Alamo, when Davy Crockett and a band of rebels went down in a blaze of glory fighting for independence from Mexico, losing the battle but setting Texas up to win the war. However, that version of events, as Forget the Alamo definitively shows, owes more to fantasy than reality. Just as the site of the Alamo was left in ruins for decades, its story was forgotten and twisted over time, with the contributions of Tejanos--Texans of Mexican origin, who fought alongside the Anglo rebels--scrubbed from the record, and the origin of the conflict over Mexico's push to abolish slavery papered over. Forget the Alamo provocatively explains the true story of the battle against the backdrop of Texas's struggle for independence, then shows how the sausage of myth got made in the Jim Crow South of the late nineteenth and early twentieth century. As uncomfortable as it may be to hear for some, celebrating the Alamo has long had an echo of celebrating whiteness.

In the past forty-some years, waves of revisionists have come at this topic, and at times have made real progress toward a more nuanced and inclusive story that doesn't alienate anyone. But we are not living in one of those times; the fight over the Alamo's meaning has become more pitched than ever in the past few years, even violent, as Texas's future begins to look more and more different from its past. It's the perfect time for a wise and generous-spirited book that shines the bright light of the truth into a place that's gotten awfully dark.
About the Author
---
Bryan Burrough is the author of six books, including The Big Rich, Days of Rage, and Public Enemies, and a coauthor of the number one New York Times bestseller Barbarians at the Gate.

Chris Tomlinson is a columnist for the Houston Chronicle and the San Antonio Express-News and the author of the New York Times bestselling Tomlinson Hill about his family's slaveholding history in Texas. From 1995 to 2007, he reported from more than thirty countries and nine wars for the Associated Press.

Jason Stanford is a writer and former communications director for the mayor of Austin. As a political consultant, Stanford has helped elect or reelect at least thirty members of Congress.
Praise For…
---
"Bryan Burrough, Chris Tomlinson, and Jason Stanford urge us to reconsider the Alamo, a symbol we've been taught to fiercely and uncritically remember . . . the book provides strong, provocative critiques of U.S. imperialism and colonialism. The myth of the Alamo, as we know it, is a lie. It's been a part of the lie students have learned in school, and animates the lies peddled by legislation like the 1836 Project and the critical race theory bill. But if you want to truly remember the past, you first have to forget it." —Texas Observer

"Engrossing." —Wall Street Journal

"Lively and absorbing . . . Much of the fun of the book derives from how deftly it strips that varnish off and demolishes the prevailing (white) racist shibboleths—in particular, what the authors call the Heroic Anglo Narrative of Texas history." —New York Times Book Review

"Lively, entertaining and well-researched . . . The greatest surprise of Forget the Alamo is its clear-eyed explication of the ways politicians, educators, writers, filmmakers and TV executives used the Alamo to serve whatever message they were promoting." —Houston Chronicle

"Riveting . . . The narrative flows seamlessly as it explores the complicated legacies of Stephen F. Austin, known as the Father of Texas, and Sam Houston, the first and third president of the Republic of Texas, as well as the many places and institutions named in their honor. Bringing Mexican voices to the forefront, the authors argue that it is necessary to diversify perspectives in order to create a comprehensive historical narrative of Texas, and especially San Antonio. Not only an essential work of Texas history, but popular history at its best. The book shines when detailing the power of telling one's own story." —Library Journal
 
"Substantive yet wryly humorous . . . Skillfully drawing on primary and secondary sources, the authors show that Stephen F. Austin, who established a colony of American settlers in Texas in the 1820s, fought to protect slavery from Mexican legislators' desire to abolish it, and that the independence movement was focused on preserving Texas's slave-based cotton economy. Enriched by its breezy tone and fair-minded approach, this is an essential look at the Alamo from the perspective of today's racial reckoning." —Publishers Weekly

"A zesty, journalistic, half history, half sendup about the battle of the Alamo and the myths that cling to it . . . Burrough, Tomlinson, and Stanford, all Texans, succeed brilliantly in their intent . . . this lively book is sure to cause plenty of interesting conversations in Texas. An iconoclastic, romping, bull's-eye volley at an enduring sacred cow—popular history at its most engaging and insightful." —Kirkus (starred)

"Burrough, Tomlinson and Stanford boldly reappraise a legend that is foundational to Texas, and for that matter to America: the battle of the Alamo. What they've unearthed is an astounding century-long effort by the state's Anglo grandees to repackage an embarrassing defeat as the very fountainhead of Lone Star heroism. Meticulously researched and engagingly written, Forget the Alamo is an all-too-timely tale of how a fable, told forcefully and frequently enough, makes its insidious way into the history books." —Robert Draper, author of To Start A War

"Forget the Alamo is all about myth-busting and icon-smashing. But anyone who thinks that in doing so the authors have simply ruined a perfectly good legend needs to think again. The true story of the Alamo is far more entertaining and complexly human than any amount of John Wayne swinging a musket from the battlements of a Texas fort. This is a ripping good tale, well told." —S. C. Gwynne, author of New York Times bestsellers Empire of the Summer Moon and Rebel Yell

"A clear-sighted historical narrative of the founding story of Texas, full of surprising details that bust the Alamo myths we were taught in school. In a time of real racial reckoning, the heroes of the Alamo don't get a pass. The authors deliver a page-turner you'll read with pleasure, packed with insights that stick to your ribs." —Elise Hu, NPR host-at-large

"As a native San Antonian, I grew up knowing only Hollywood's version of how things went down at what became the 'shrine of Texas liberty.' In this lively book, Bryan Burrough, Chris Tomlinson and Jason Stanford dig deep into Texas history to separate fact from legend—not only about the Alamo, but of the forces that produced Texas itself. It turns out reality is richer and more compelling than mythology." —Karen Tumulty, Washington Post columnist and author of The Triumph of Nancy Reagan


UPB open Tuesday through Friday 1PM - 6PM, Saturday Noon - 5pm
2430 Bancroft Way
The store known for serving pure brain food has returned to our old digs for a few months to sell down inventory and bid fare thee well to our decades of in-store customers.
Days and hours subject to change.
Note: This site lists what's available for special order from Ingram Content Group.
Visit our pages at Alibris or Biblio to survey in-store stock priced above $19.95.
Discount applies only to in-store purchases.
Cafe Ohlone
Once hosted by UPB, Cafe Ohlone now serves guests outside the Hearst Museum of Anthropology on the Cal campus.
Savor the foods which characterized east bay cuisine for thousands of years, before European contact. Brought to you by Mak'amham.