The History of Philosophy (Paperback)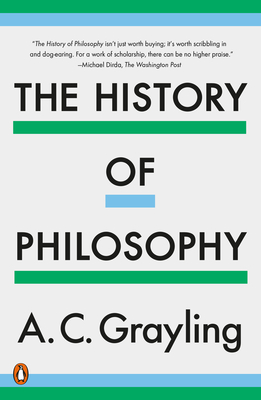 $20.00

Ships from Warehouse, Usually in 1-8 Days
Description
---
"A witty, learned, authoritative survey of philosophical thought." —The New York Times Book Review

The first authoritative and accessible single-volume history of philosophy to cover both Western and Eastern traditions, from one of the world's most eminent thinkers
 
The story of philosophy is an epic tale, spanning civilizations and continents. It explores some of the most creative minds in history. But not since the long-popular classic by Bertrand Russell, A History of Western Philosophy, published in 1945, has there been a comprehensive and entertaining single-volume history of this great, intellectual, world-shaping journey.

With characteristic clarity and elegance, A. C. Grayling takes the reader from the age of the Buddha, Confucius, and Socrates through Christianity's capture of the European mind, from the Renaissance and Enlightenment on to Mill, Nietzsche, Sartre and, finally, philosophy today. Surveying in tandem the great philosophical traditions of India, China, and the Persian-Arabic world, and astonishing in its range and accessibility, Grayling's The History of Philosophy is destined to be a landmark work.
About the Author
---
Professor A. C. Grayling is master of the New College of the Humanities, and a supernumerary fellow of St Anne's College, Oxford. He has written and edited over thirty books on philosophy and other subjects, and has written on non-Western philosophy. For several years, he wrote columns for The Guardian newspaper and The Times (London), and was the chairman of the 2014 Man Booker Prize.
Praise For…
---
"[A] highly readable narrative . . . lively. . . For a book that covers more than 100 individual thinkers spanning 2,500 years, the level of both detail and accuracy is admirable." —Wall Street Journal
 
"The History of Philosophy isn't just worth buying; it's worth scribbling in and dog-earing. For a work of scholarship, there can be no higher praise." —Michael Dirda, Washington Post

"Grayling offers a witty, learned, authoritative survey of philosophical thought in both the Western and Eastern traditions."—The New York Times Book Review

"A capacious and stimulating chronicle of philosophical endeavor."—Booklist, starred review

"Grayling presents an impressive, comprehensive catalogue of great thought and thinkers in this sweeping survey [...] Perhaps Grayling's greatest strength lies in his ability to categorize, contrast, and clarify complex ideas, such as Plato's theory of forms and Kant's categorical imperative. Elegant, clear, and precise [...] Grayling's superb work is an indispensable resource for any "serious student of ideas."—Publishers Weekly, starred review

"Grayling  offers a remarkably comprehensive history of philosophy from ancient Greece to the present. He covers not only Western philosophy but Indian, Chinese, Arabic-Persian, and African philosophy as well, and his skill as an expositor is apparent [ . . . ] This work will interest readers of philosophy and intellectual history. It aims at general audiences, but scholars will also find it valuable."—Library Journal, starred review
 
"A magnificent recapping of the history of philosophy, as it stands apart from theology, in the classic model of Bertrand Russell, as 'an invitation and an entrance' … [I]t is a delight to engage in this sweeping history of the great thinkers throughout the ages, from pre-Socratics to the present….Grayling's accessible omnibus will provide a stepping stone for the student or novice."—Kirkus Reviews

A triumph--miracle?--of clarity, scholarly authority, and suave concision. I especially appreciated how Grayling, himself a philosopher of note, intrepidly takes the story right down to the present day, giving us a brisk and masterly survey of contemporary figures ranging from Quine and Kripke to Deleuze and Derrida." – Jim Holt, author of Why Does the World Exist?
 
"A.C. Grayling loved writing The History of Philosophy—and it shows.  To revalue the ideas of the past, to insist that these ideas have origins and histories, to explain how these histories arise in deeply human practices and concerns: this landmark book is an antidote for a culture intent on forgetting, and in some cases destroying, its intellectual inheritance. It is easy to confuse the narrow concerns of the present with the genuinely important.  Grayling offers a reminder: philosophy endures and its past is not distant.  Indeed, it will continue to have its way with us." – John Kaag, author of Hiking with Nietzsche: On Becoming Who You Are
 
"Grayling has written a masterful and often entertaining chronicle of the epic intellectual journey we humans have taken, in different periods, countries and cultures, to understand ourselves, our world, and how we ought to live. An extraordinary accomplishment that transcends the usual bounds of academic specialization." – Peter Singer, Ira W. DeCamp Professor of Bioethics, Princeton University
 
"Updating Bertrand Russell for the 21st century… a cerebrally enjoyable survey, written with great clarity and touches of wit… The non-western section throws up some fascinating revelations." – The Sunday Times (UK)
 
"Weighty and witty… Sharp and colloquial… Grayling exudes great love for his subject, and a desire that readers, philosophers or not, should love it too – a desire that is bound to be aptly realized." – The Daily Telegraph (UK)


UPB open Tuesday through Friday 1PM - 6PM, Saturday Noon - 5pm
2430 Bancroft Way
The store known for serving pure brain food has returned to our old digs for a few months to sell down inventory and bid fare thee well to our decades of in-store customers.
Days and hours subject to change.
Note: This site lists what's available for special order from Ingram Content Group.
Visit our pages at Alibris or Biblio to survey in-store stock priced above $19.95.
Discount applies only to in-store purchases.
Cafe Ohlone
Once hosted by UPB, Cafe Ohlone now serves guests outside the Hearst Museum of Anthropology on the Cal campus.
Savor the foods which characterized east bay cuisine for thousands of years, before European contact. Brought to you by Mak'amham.