Losing Military Supremacy Lib/E: The Myopia of American Strategic Planning (Compact Disc)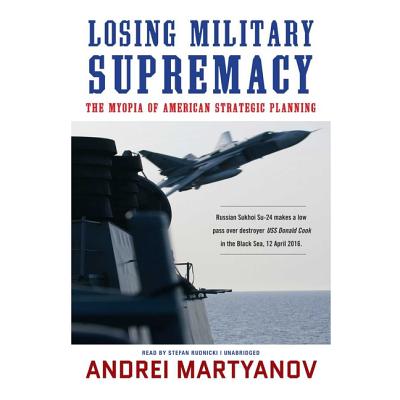 Description
---
Time after time the American military has failed to match lofty declarations about its superiority, producing instead a mediocre record of military accomplishments. Starting from the Korean War the United States hasn't won a single war against a technologically inferior, but mentally tough enemy. The technological dimension of American strategy has completely overshadowed any concern with the social, cultural, operational, and even tactical requirements of military (and political) conflict. With a new cold war with Russia emerging, the United States enters a new period of geopolitical turbulence completely unprepared in any meaningful way--intellectually, economically, militarily, or culturally--to face a reality which was hidden for the last seventy-plus years behind the curtain of never-ending Chalabi moments and a strategic delusion concerning Russia, whose history the US viewed through a Solzhenitsified caricature kept alive by a powerful neocon lobby, which even today dominates US policy makers' minds.
This book
explores the dramatic difference between the Russian and US approach to warfare, which manifests itself across the whole spectrum of activities from art and the economy, to the respective national cultures;illustrates the fact that Russian economic, military, and cultural realities and power are no longer what American elites think they are by addressing Russia's new and elevated capacities in the areas of traditional warfare as well as cyberwarfare and space; and studies in depth several ways in which the US can simply stumble into conflict with Russia and what must be done to avoid it.
Martyanov's former Soviet military background enables deep insight into the fundamental issues of warfare and military power as a function of national power--assessed correctly, not through the lens of Wall Street economic indices and a FIRE economy, but through the numbers of enclosed technological cycles and culture, much of which has been shaped in Russia by continental warfare and which is practically absent in the US.