Before you order…
We're glad to continue serving customers, even though our former store front has closed, and we operate this web store under reduced services.
Click here or scroll to the bottom to review limits placed on orders. .
The Stressless Brain (Paperback)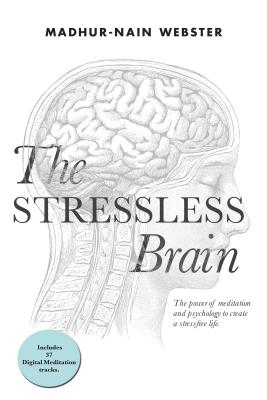 Description
---
Though the modern world has given us many benefits and privileges, it has also burdened us with constant stimulation and endless expectations. Feeling overwhelmed, we become distracted from our life's purpose. Because we have lost our path, we feel emotionally, physically, and spiritually imbalanced - and this has left many of us stressed and anxious. In The Stressless Brain, I detail the importance of building a relationship with yourself through the use of Kundalini Meditation. By incorporating yogic technology into your life, you can learn to govern your thoughts and emotions in a mindful manner. Meditation offers you the tools to view your life with clarity so that you can respond, rather than react, to stressful situations. Bridging the worlds of yogic meditation, psychology, and science, The Stressless Brain will help you thoroughly understand stress and anxiety and how it affects your entire being: body, mind, and soul. Whether you are experiencing mental hardships from your professional, personal, or romantic life, my objective is for you to find answers within yourself and make any necessary changes - all through the regular practice of meditation. If you feel powerless, then I hope the yogic insight and meditational instructions provided in this book can give you the strength to harness your mind and teach it to best serve you. Using Kundalini Meditation, you can find the courage to self-reflect so that you can self-correct.
About the Author
---
Madhur-Nain Webster's life has been balanced by the traditions and practices of Kundalini Yoga. Her love of humanity and fascination with the human mind and behavior guided her towards a career where she could influence people and enrich their lives through the use of psychology and meditation. She received her Master's Degree from the University of Oregon and moved to California, where she became a licensed Marriage and Family Therapist. She currently facilitates a therapy practice in Napa, California. Her conviction of the positive influence that meditation has on the psychology and well-being of a person plays a major role in her approach to therapy. One of her goals is to bring chanting meditations - a basic tenet of Kundalini technology - into the mainstream. As a result, she has created over 45 easy-to-use meditation music tracks, plus four meditation CDs.