Before you buy…
We're glad to again service customers, even though our former store front has closed and we operate this web store under reduced services.
Just scroll to the bottom to review limits placed on orders. .
Crash Course: From the Good War to the Forever War (War Culture) (Hardcover)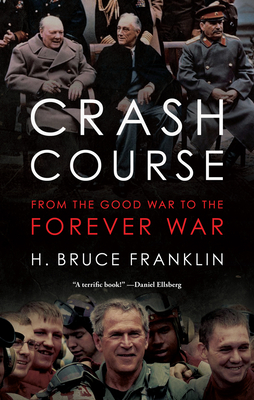 $34.95
Ships from Warehouse, Usually in 1-8 Days
Description
---
Growing up during the Second World War, H. Bruce Franklin believed what he was told: that America's victory would lead to a new era of world peace. Like most Americans, he was soon led to believe in a world-wide Communist conspiracy that menaced the United States, forcing the nation into a disastrous war in Korea. But once he joined the U.S. Air Force and began flying top-secret missions as a navigator and intelligence officer, what he learned was eye-opening. He saw that even as the U.S. preached about peace and freedom, it was engaging in an endless cycle of warfare, bringing devastation and oppression to fledgling democracies across the globe.
 
Now, after fifty years as a renowned cultural historian, Franklin offers a set of hard-learned lessons about modern American history. Crash Course is essential reading for anyone who wonders how America ended up where it is today: with a deeply divided and disillusioned populace, led by a dysfunctional government, and mired in unwinnable wars. It also finds startling parallels between America's foreign military exploits and the equally brutal tactics used on the home front to crush organized labor, antiwar, and civil rights movements.
 
More than just a memoir or a history book, Crash Course gives readers a unique firsthand look at the building of the American empire and the damage it has wrought. Shocking and gripping as any thriller, it exposes the endless deception of the American public, and reveals from inside how and why many millions of Americans have been struggling for decades against our own government in a fight for peace and justice.  
About the Author
---
H. BRUCE FRANKLIN is a former Air Force navigator and intelligence officer, a progressive activist, and the John Cotton Dana Professor of English and American Studies, emeritus at Rutgers University in Newark, New Jersey. He is the author or editor of nineteen books, and has received lifetime achievement awards from the American Studies Association and other major academic organizations.
 
Praise For…
---
"A compelling memoir mixed with original historical research leading to fresh interpretations of the permanent war culture." 
— Kirkus *starred* review
"It's especially stunning for me personally, to read Franklin's gripping account of the era we both lived through--three years apart in age--and to realize that we followed the same unusual trajectory in beliefs and attitudes: both committed Cold Warriors at the outset--my service in the Marine Corps and working on nuclear war plans in the Pentagon overlapping his active service in the Strategic Air Command rehearsing the catastrophic enactment of such plans--his disillusion with the Vietnam war and his turn to active resistance shortly preceding my own. Readers of any age will find this an exciting and startlingly self-aware memoir of a life transformed in our dangerous epoch, and most will find in it radically new perspectives on these perilous times, up to the present mind-boggling moment. A terrific book!"
— Daniel Ellsberg
— Jayne Anne Phillips
"Two threads are skillfully interwoven in this absorbing memoir: the record of a remarkable life, with rich and varied experience; and astute analysis of the background of critical historical events. The outcome is a fascinating picture of post-World War II America, all under the grim shadow of 'forever war.'"
— Noam Chomsky
— Richard Falk
"This is a deeply personal and compelling account of Franklin's lifelong entanglement with America's perpetual war state, from his youthful enthusiasms, to his years of flight in the Strategic Air Command, to his sustained resistance to the Vietnam War, which changed his life in so many ways.  Franklin has been one of the major scholars of America's post-WWII commitment to war as policy, and here we learn how that happened. It's a rousing and inspirational life story!"
— Kim Stanley Robinson
— John Dower
"A required course for everyone concerned about how militarization has shaped American society and national identity from World War II through interventions in Korea and Vietnam to the current endless war on terror. Especially engaging is the interweaving of personal memoir and political analysis, of social life and foreign policy, by one of our greatest myth busters."
— Amy Kaplan
— John Carlos Rowe
"A passionate activist scholar, Franklin skillfully harnesses his lively and scrupulously candid autobiography to a deeply researched history of the emergence in the U.S. since World War II of what he calls the Forever War, which he places in compelling counterpoint to the growth of the wide-spread anti-war movement and allied progressive causes to which he himself was an important contributor.  A terrific read."
— Michael Cowan
— Foreign Policy Journal
— Pacific Standard
"Franklin's mastery of the craft of writing has created a book where each element enhances the essential nature of the other. The story he tells here describes not only an epoch in the history of a nation and an individual, but also the consciousness that created that history."
— CounterPunch
— Military History Now
— Amherst Magazine
— WFHB "Interchange" interview
— "Talkies" KPFA
"This thought-provoking book will be of interest to readers seeking to understand America's 20th-century history and its ongoing war culture."
— Publishers Weekly
— Long Island.com
— Military History Inside Out
— CounterPunch Magazine
"[Franklin] has spent his adult life tilting at windmills, and our current situation suggests not much has come of his efforts, and those of millions of others. But, along with his wife Jane, whom he praises generously as his partner in activism and for her inspiration to him, he is persistent, and courageous, and has been around the block fighting the forces of brutality and militarism. We should hope to see more of his excellent scholarship and lucid writing in future years."
— Washington Babylon
— Veterans for Peace
— CounterPunch Magazine
— The VVA Veteran
— Logos Journal
— Stanford Daily
— Stanford Daily
"At heart, this is a fascinating book and well worth reading."
— H-Net
— CounterPunch Magazine
— Interchange
— Bracing Views
— Harvey Wasserman
— Solartopia Green Power & Wellness Hour
— CounterPunch Magazine
"A fascinating examination of a dark transformation in American history."
— The Historian
— Diplomatic History
STOREFRONT CLOSED FOR REGULAR BUSINESS
Nevertheless, UPB provides ship-to-home service.
Unless and until we move our on-line fulfillment team to different premises, everything you purchase from us ships from warehouses outside of Berkeley.
Much of what we used to carry on store shelves is available, except for very expensive books, used books, and titles fallen between printings.
A number of limitations apply during this period of reduced operations:
Only orders that subtotal under $75.00 will ship.
Thus, we may remove items from a multi-book order and ask you to resubmit them on a separate order.
Sometimes we may have to split an order because books are stocked at different warehouses. Sorry, it's impossible to tell in advance when this may happen.
Credit card orders only
Many high demand titles ship fairly quickly. Most other titles travel from back east, adding 2 to 3 days to delivery
Althoug we love you in Canada, Latin America, and else where, U.S. orders only.
Certain publishers set low margins on certain titles. Sorry, we've had to raise prices on these, some we don't offer at all.
You can also purchase eBooks and audio books through us. Distributed by Hummingbird, they include publications from the major trade publishers. Just access the menu link or the sidebar image above.
We greatly appreciate your support of the store with your book orders. Need a book without our current shopping restrictions? We recommend Bookshop. View our affiliate page, then search for whatever book you'd like.
---
Should you have questions, email us via our contact form. Since none of will be keeping regular hours, it may take a day or two to get back with you.
The Cafe Ohlone has closed for the duration of the epidemic. They will probably reopen at a different location when they do.
From 1974, University Press Books has stoked the blaze of well over ten thousand minds on fire, carrying new scholarship published by the great university presses in the English-speaking world.
Since our founding, we've added quality fiction and creative non-fiction to our selection, without drfiting from our mission to showcase top new texts introduced by university presses.
Order from us. Visit us. Let well-wrought words churn and burn within.