Contractor's Blueprint (Paperback)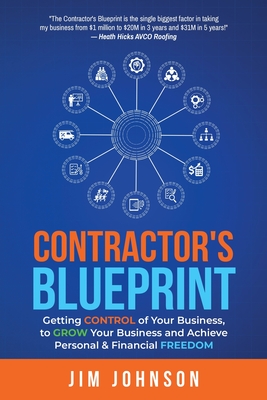 $24.19

Ships from Warehouse, Usually in 1-8 Days
Description
---
The step-by-step blueprint to building a multi-million dollar home service contracting business that works for you instead of you working for it.
The Challenge
You started your contracting business with one thing in mind, create a vehicle to achieve the lifestyle you deserve and your version of success. But you feel like it is two steps forward and one step back - you are starting to doubt if you will ever achieve that dream. You feel like you're wearing all the hats and you are the only one with the experience to do the job right. You know you need systems and processes, but where do you start and when will you find time to do them if you know you must do the day to day work that needs to be done to pay the bills? Sometimes it feels overwhelming and everyone is saying, you just need...More Leads, More Sales and Better People. Sounds great, but how? Is that the right thing at the right time? It is like playing roulette with your business and your life. You feel like one bad step could cost you everything.
The Myth
You hear it over and over again from all the gurus, just keep "failing forward" and with hard work and lessons learned from all of your mistakes, in the end you will find the promised land. Pay the "dumb tax", "gotta go to the school of hard knocks", and on.
Reality
You are tired of seeing everyone else "figure it out". You know if someone has done what you are trying to do, then there must be a way that works. Why doesn't someone provide the instruction so you can get there faster with a simple step-by-step guide? You are so tired of failing forward - just give me the blueprint already Our contracting businesses have a DNA to them. When you do things in the wrong sequence we end up with an ugly baby that causes us nothing but problems. But when you do things in the right sequence it becomes a beautiful sight to behold.
After years of running $20-40 million annual revenue contracting businesses and helping to develop and bring to market one of the preeminent software's for home service contractors, Jim Johnson thought he had this successful contractor thing down and saw a need as he met with over 1000 contractors who didn't as he presented the benefits of software to their business. It was time to leave the software world behind and give them a hand through coaching. It started out as simply meeting once a week and helping contractors solve the problems they were facing in their business. It didn't take long for Jim to realize that there was more going on than just solving the most pressing issues. Through careful observation, there was a pattern that became clear that could only have been understood through coaching hundreds of clients.
Amidst the chaos of running a home services contracting business there is an order, that if done in the right sequence ensured the contractor's success. There was literally a blueprint, the Contractor's Blueprint... If you want to achieve your version of success, and you are tired of working for your business instead of on your business, it is time to read the Contractor's Blueprint and learn how to become an 8 figure or even a 9 figure contracting business and gain the freedom you know you deserve.