Cyber Crisis: Protecting Your Business from Real Threats in the Virtual World (Hardcover)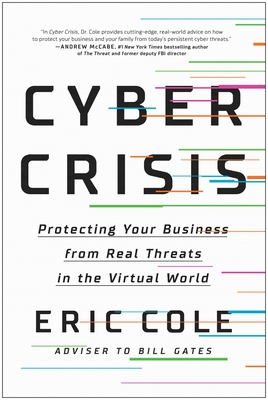 $27.95

Ships from Warehouse, Usually in 1-8 Days
Description
---
Based on news reports, you might think there's a major cybersecurity threat every four to five months.

In reality, there's a cybersecurity attack happening every minute of every day.

Today, we live our lives—and conduct our business—online. Our data is in the cloud and in our pockets on our smartphones, shuttled over public Wi-Fi and company networks. To keep it safe, we rely on passwords and encryption and private servers, IT departments and best practices. But as you read this, there is a 70 percent chance that your data is compromised . . . you just don't know it yet.

Cybersecurity attacks have increased exponentially, but because they're stealthy and often invisible, many underplay, ignore, or simply don't realize the danger. By the time they discover a breach, most individuals and businesses have been compromised for over three years. Instead of waiting until a problem surfaces, avoiding a data disaster means acting now to prevent one.

In Cyber Crisis, Eric Cole gives readers a clear-eyed picture of the information war raging in cyberspace. Drawing on 30 years of experience—as a professional hacker for the CIA, as the Obama administration's cybersecurity commissioner, and as a consultant to clients around the globe from Bill Gates to Lockheed Martin and McAfee—Cole offers practical, actionable advice that even those with little technical background can implement, including steps to take on a daily, weekly, and monthly basis to protect their businesses and themselves.

No matter who you are or where you work, cybersecurity should be a top priority. The information infrastructure we rely on in every sector of our lives—in healthcare and finance, for governments and private citizens—is both critical and vulnerable, and sooner or later, you or your company will be a target. This book is your guide to understanding the threat and putting together a proactive plan to minimize exposure and damage, and ensure the security of your business, your family, and your future
About the Author
---
Dr. Eric Cole has worked in cybersecurity for over 30 years, helping organizations of all shapes and sizes properly protect and secure their information. He began his career as a professional hacker with the CIA and learned that he could break into any computer that is accessible from the internet. He then used his expertise and knowledge to build companies focused on defensive solutions. Dr. Cole has done work for Lockheed Martin and McAfee and has consulted clients all around the world, including Saudi Aramco, Nouryon, electrical utility companies, nuclear reactors, financial organizations, and healthcare providers. He performs security for the Gates family and was a commissioner for President Obama, for whom Dr. Cole continues to provide security advice.

Dr. Cole is a sought-after expert who has received many recognitions and has been inducted into the InfoSec Hall of Fame. He has written several books on cybersecurity, and he's often featured on many news channels including CNN, Fox, CBS, and NBC. He was one of the authors of the Nuclear Regulatory Commission's cybersecurity guide, and he received a cyber wingman award from the Air Force and was pinned with his Cyber Wings for
building out and developing their entire cybersecurity program.
Praise For…
---
"Strong cybersecurity is essential for every individual and business in this time of elevated threats. In Cyber Crisis, Dr. Cole provides cutting-edge, real-world advice on how to protect your business and your family from today's persistent cyber threats."

—Andrew McCabe, #1 New York Times bestselling author of The Threat and former deputy FBI director

"The more I work with high-profile individuals, I realize the impact that cybersecurity can have on their lives. Anyone and everyone has to pay attention to cybersecurity and there is no one better than Dr. Cole."

—Tim Storey, life coach for Oprah

"Eric Cole is my 'go to' authority on cybersecurity. Not only is he an expert, he's an expert explainer, which is invaluable to both businesses and the media. Cyber Crisis does a top notch job of explaining cybersecurity in a way that anyone can understand. If you want your company or your audience to stay ahead of the hacks, call Eric and read his book. I recommend him without reservation." 

—Joel Roberts, former host for KABC Radio, Los Angeles 

"An easy read and unbelievably informative and eye opening. Whether you are a parent, business owner, CEO, CFO, governmental official, or an everyday hardworking individual that uses a smartphone or computer, you will learn something and not regret reading this book . . .There is a reason that many of the most powerful and affluent people of the world have Eric's personal cell phone number." 

—Peter Clark, NYPD Lieutenant Commander-Detective Squad (Retired) 

"Cybersecurity is one of the top threats facing any business or organization. In Cyber Crisis, Dr. Cole emphasizes and concisely articulates the importance to every executive of prioritizing this critical threat . . . This book is an essential read for every executive in any industry."

—Jim Finkelstein, Rear Admiral for the US Navy (Retired)

"Cybersecurity is frequently at the forefront of strategy and investment planning and so often the leadership responsible for securing sensitive data has only a superficial understanding of the elements of true cybersecurity. Dr. Cole addresses this problem head-on in his new book, Cyber Crisis. This book, unlike any I have seen in my career, presents critical issues in a concise and easy to follow manner that most anyone can understand. This is truly required reading for all executives and leaders."

—Marshall Manley, former President and CEO of City Investing Company and chairman of Home Insurance Company

"From hospital executives to practitioners to third-party payers, the responsibility for data security is pervasive. Cyber Crisis by Dr. Cole plain and simply equips leaders with a working knowledge of cybersecurity and guides them concisely on how to prepare for and manage security threats. This book simplifies a challenging and crucial topic for our industry. It should be a staple read in the medical and associated industries."

—Paul M. Zimmerman, MD, founder of Automated Healthcare Solutions and chairman of Gensco Pharma

"A brilliant presentation of a complex topic in a methodical, consumable format that enables nontechnical leadership to rapidly grasp and prepare for cyber threats. This book will be the gold standard for preparing senior leadership to manage this exploding threat."

—William Costlow, president of Performance Marketing

"Cybersecurity is one of the top threats facing any business. In Cyber Crisis, Dr. Cole emphasizes the importance of not ignoring this critical threat and making it a top priority. Dr. Cole does a great job of taking a very complex topic and making it easy to understand for any business. This book is a must-read for any executive in any business vertical."

—Amit Yoran, chairman and CEO of Tenable and former CEO of RSA

"Dr. Cole's brilliant book emphasizes the importance of personal and institutional focus on this critical threat and making it a top priority at work and at home . . . You will find Cyber Crisis to be a reader-friendly primer on every aspect of cyber threats and should be considered a must-read for any business vertical."

—Edward "Sonny" Masso, Rear Admiral for the US Navy (Retired)—Flagship Connection