A Manual for Creating Atheists (Paperback)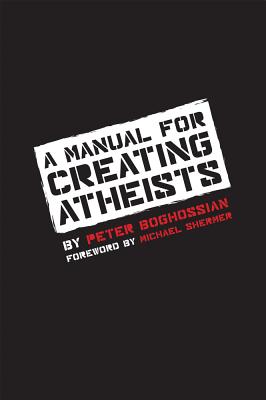 $14.95

Ships from Warehouse, Usually in 1-8 Days
Description
---
For thousands of years, the faithful have honed proselytizing strategies and talked people into believing the truth of one holy book or another. Indeed, the faithful often view converting others as an obligation of their faith—and are trained from an early age to spread their unique brand of religion. The result is a world broken in large part by unquestioned faith. As an urgently needed counter to this tried-and-true tradition of religious evangelism, A Manual for Creating Atheists offers the first-ever guide not for talking people into faith—but for talking them out of it. Peter Boghossian draws on the tools he has developed and used for more than 20 years as a philosopher and educator to teach how to engage the faithful in conversations that will help them value reason and rationality, cast doubt on their religious beliefs, mistrust their faith, abandon superstition and irrationality, and ultimately embrace reason.
About the Author
---
Peter Boghossian is a full-time faculty member in the philosophy department at Portland State University.
Praise For…
---
"A book so great you can skip it and just read the footnotes. Pure genius."  —Christopher Johnson, cofounder, the Onion

"I wouldn't be surprised if ten years from now we realized that this book's publication was a turning point in the decline of Christianity in the West."  —Tom Gilson, author, Thinking Christian

"There is nothing else on the market like this book that helps atheists talk believers out of their faith. Every atheist interested in doing so, or who talks to believers about faith at all, should read it. It's both needed and brilliant!"  —John W. Loftus, author, Why I Became an Atheist and The Outsider Test for Faith

"Boghossian has provided an indispensable chart book for all of us who must navigate the rising sea of magical thinking that is inundating America today."  —Victor Stenger, PhD, author, God: The Failed Hypothesis and God and the Atom

"A brave, clear book, crammed with useful insights. Boghossian's call for honest, evidence-based thinking has implications far beyond its focus on debates about God and religious faith. A Manual for Creating Atheists is a strong challenge to ideology and propaganda, wherever we find them." —Russell Blackford, author of Freedom of Religion and the Secular State
UPB open Tuesday through Friday 1PM - 6PM, Saturday Noon - 5pm
2430 Bancroft Way
The store known for serving pure brain food has returned to our old digs for a few months to sell down inventory and bid fare thee well to our decades of in-store customers.
Days and hours subject to change.
Note: This site lists what's available for special order from Ingram Content Group.
Visit our pages at Alibris or Biblio to survey in-store stock priced above $19.95.
Discount applies only to in-store purchases.
Cafe Ohlone
Once hosted by UPB, Cafe Ohlone now serves guests outside the Hearst Museum of Anthropology on the Cal campus.
Savor the foods which characterized east bay cuisine for thousands of years, before European contact. Brought to you by Mak'amham.