Fast After 50: How to Race Strong for the Rest of Your Life (Paperback)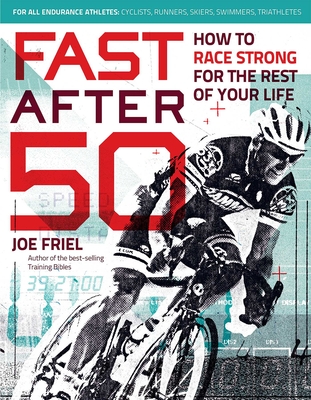 Description
---
Fast After 50
is for every endurance athlete who wants to stay fast for years to come.
For runners, cyclists, triathletes, swimmers, and cross-country skiers, getting older doesn't have to mean getting slower. Drawing from the most current research on aging and sports performance, Joe Friel--America's leading endurance sports coach--shows how athletes can race strong and stay healthy well past age 50.
In his groundbreaking book
Fast After 50
, Friel offers a smart approach for athletes to ward off the effects of age. Friel shows athletes how to extend their racing careers for decades--and race to win.
Fast After 50
presents guidelines for high-intensity workouts, focused strength training, recovery, crosstraining, and nutrition for high performance:
How the body's response to training changes with age, how to adapt your training plan, and how to avoid overtraining
How to shed body fat and regain muscle density
How to create a progressive plan for training, rest, recovery, and competition
Workout guidelines, field tests, and intensity measurement
In
Fast After 50
, Joe Friel shows athletes that age is just a number--and race results are the only numbers that count.
With contributions from: Mark Allen, Gale Bernhardt, Amby Burfoot, Dr. Larry Creswell, John Howard, Dr. Tim Noakes, Ned Overend, Dr. John Post, Dr. Andrew Pruitt, and Lisa Rainsberger.
About the Author
---
Joe Friel is the most trusted endurance sports coach in the world. He is the best-selling author of The Triathlete's Training Bible, The Cyclist's Training Bible, Fast After 50, Going Long, Your Best Triathlon, The Power Meter Handbook, and Your First Triathlon. His TrainingBible Coaching service is one of the most successful and respected in endurance sports. Joe has trained endurance athletes since 1980, including national champions, world championship contenders, and Olympic athletes in triathlon, duathlon, road cycling, and mountain biking. He is an elite-certified USA Triathlon and USA Cycling coach and holds a master's degree in exercise science. He conducts training and racing seminars around the world and provides consulting services for corporations in the fitness industry. He has also been active in business as the founder of Ultrafit, an association of coaching businesses; TrainingPeaks, a web-based software company; and TrainingBible Coaching.
Praise For…
---
"Joe Friel is arguably the most experienced personal cycling coach in the U.S."
— Bicycling magazine

"Fast After 50 is the best of this year's batch of practical books on science and performance. A great overview of the science of endurance training for anyone, but particularly focused on how to adapt as you get older. Solid advice, clearly presented."
— Runner's World

"One of the most trusted coaches in triathlon."
— LAVA magazine

"Joe Friel is one of the world's foremost experts on endurance sports. You can, in fact, be fast after 50."
— Outside magazine

"Read Fast After 50 to learn more about the effects of aging on athletic performance and how you can be a competitive endurance athlete as you get older."
— Triathlete magazine

"To say that Joe Friel knows a thing or two about how to ride a bicycle and stay fast would be a severe understatement…And with his firsthand knowledge as a 50-plus athlete, he has published Fast After 50 which continues to be a boon for the many cyclists looking to stay fit as they age."
— Road Bike Action

"For those who are accepting that growing older means slower and less, Fast After 50 might change your mindset and give you a new lease on life…The book offers a smart approach to warding off the effects of age. It contains much that will put your mind at rest and much more than will inspire you to work out with more vigor and confidence."
— Athletics Weekly

"Athletes bent on defying the aging process will want to get their hands on Joe Friel's Fast After 50…Friel's book is jam-packed with sound advice that would benefit younger athletes as well…Fast After 50 is a gold mine of accessible info for all athletes and possibly the newest bible for the aging athlete."
— Canadian Running

"Cyclists set on defying the aging process will want to get their hands on Joe Friel's Fast After 50."
— Canadian Cycling magazine

"The aging process is something none of us can avoid, but with the help of Joe Friel and his book Fast After 50 we might be able to fight off the degeneration or at least understand the process."
— Pezcyclingnews.com