***CREDIT/DEBIT CARD PROCESSING SUSPENDED
THROUGH THURSDAY, APRIL 8TH WEDNESDAY, APRIL 14TH***
To improve our service, we're changing transaction handling services.
It'll take us a few days to finish the switch.

In the meanwhile, we're accepting payments from PayPal.
Before you order…
We're glad to continue serving customers, even though our former store front has closed, and we operate this web store under reduced services.
Click here or scroll to the bottom to review limits placed on orders. .
Public Folklore (Paperback)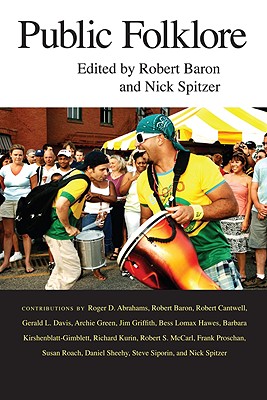 Sorry, Not Available through UPB
Description
---
A landmark volume exploring the public presentation and application of folk culture in collaboration with communities, Public Folklore is available again with a new introduction discussing recent trends and scholarship. Editors Robert Baron and Nick Spitzer provide theoretical framing to contributions from leaders of major American folklife programs and preeminent folklore scholars, including Roger D. Abrahams, Robert Cantwell, Gerald L. Davis, Archie Green, Bess Lomax Hawes, Richard Kurin, Daniel Sheehy, and Barbara Kirshenblatt-Gimblett. Their essays present vivid accounts of public folklore practice in a wide range of settings--nineteenth-century world's fairs and minstrel shows, festivals, museums, international cultural exchange programs, concert stages, universities, and hospitals. Drawing from case studies, historical analyses, and their own experiences as advocates, field researchers, and presenters, the essayists recast the history of folklore in terms of public practice, while discussing standards for presentation to new audiences. They approach engagement with tradition bearers as requiring collaboration and dialogue. They critically examine who has the authority to represent folk culture, the ideologies informing these representations, and the effect upon folk artists of encountering revived and new audiences within and beyond their own communities. In discussions of the relationship between public practice and the academy, this volume also offers new models for integrating public folklore training within graduate studies.
About the Author
---
Robert Baron directs the folk arts program of the New York State Council on the Arts and has been a non-resident Fellow at the W. E. B. Du Bois Institute for African and African American Research at Harvard University. He is coeditor (with Ana C. Cara) of Creolization as Cultural Creativity, published by University Press of Mississippi. Nick Spitzer is host and creator of public radio's American Routes and folklore professor at the University of New Orleans.