Anxiety in Relationship and Couples Therapy: 2 books in 1: The Easiest Way to Eliminate Insecurity, Fear of Abandonment and Jealousy to Overcome Coupl (Paperback)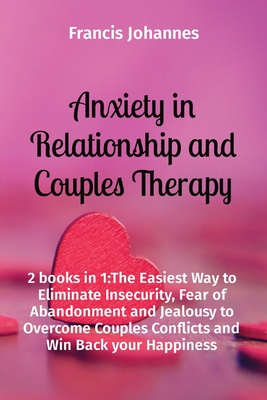 Description
---
** 55% discount for bookstores Now at $33.95 instead of $46.95 **
Are you constantly anxious in your relationships?Perhaps you are worried that your partner doesn't love and might leave you anytime soon.Or have you ever been told you're too sensitive, too clingy, too demanding?
Does he actually love me, or is he just pretending? What if I do something wrong? What if I never find the right person for me?
Anxious thoughts and constant worry plague relationships and threaten to tear apart two people before they've even been able to experience the wonder of love. Whether you've lived with anxiety your whole life or recent events have stirred up underlying insecurities, you don't have to accept that the rest of your life will be like this. You can take back control and push anxiety out.
If you're tired of living in a constant state of panic, sick of analyzing everything your partner does to determine if they're going to leave, and overwhelmed with the burden of carrying a relationship's worth of worries on your shoulders, it's time to put down your fear.
You deserve a loving, fulfilling relationship in which anxiety plays no part. Anxiety in Relationships aims to tackle the main issues that lead to anxiety and offers you the tools that will help you and your partner build a lasting relationship.
This book will provide you with all the necessary information and tools to establish, improve or rescue your dream relationship, bringing back the feelings and emotions that made it so special. You will learn how to eliminate those negative thoughts crippling your relationship, overcome jealousy and recover a sense of security over that love.
Here's a quick rundown of what you'll find in this book:
- How to recognize and understand the signs and causes of Anxiety
- How Anxiety affects relationships, and how to manage it
- How to deal with an anxious or jealous partner
- Learn the most powerful and proven techniques to overcome insecurity and Anxiety
- The 7 steps to overcome insecurity in Love
- How Negative Thinking cripples your relationship, and how to stop it
- Learn about attachment styles and their impact on your relationship
- How to handle Jealousy, with practical tips to overcome it
- The 7 most common disagreements in a relationship, and how to solve them
- How to use Emotional Intelligence to improve your relationship
- How to build a deeper connection with your partner
- How to recover from a Toxic Relationship
- Discover the best couple habits to live a happier relationship
- Love finding tips to find the partner you want
It's time for you to let go of the thoughts that tell you you're not good enough, the anxiety that stops you from reaching out, and the worry that leads you to doubt yourself and your partner. It doesn't take a miracle to start life anew - just the right guidance. That's what this book is here to offer.
Anxiety doesn't have to be the third wheel. You can learn how to not only manage anxiety, but kick it to the curb for good.
Buy it NOW and let your customers become addicted to this incredible book