The Sicilian Secret Diet Plan (Paperback)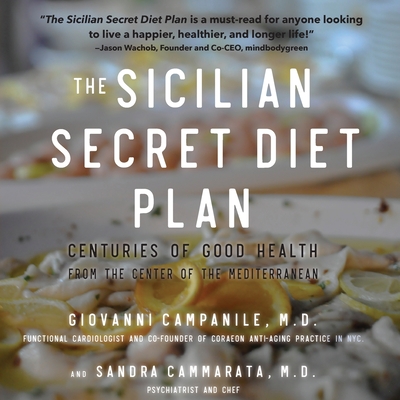 $27.95

Ships from Warehouse, Usually in 1-8 Days
Description
---
THE SICILIAN DIET is a clinically proven diet and lifestyle plan that helps you restore your intrinsic health and increase your longevity. More good news: you'll enjoy the process.
Written by a noted nutritional cardiologist / integrative medicine physician, with recipes supplied by his wife, also a physician (and a native of Sicily), THE SICILIAN DIET is much more than a credible, delicious way to eat well while losing excess weight and fat; it is a complete lifestyle plan that addresses all the elements essential to physical and mental wellness at any age. In the truest sense of the word, it is the "diet" for a good long life.
The content of THE SICILIAN DIET presents an appealing, do-able plan. Organized in three parts, the book leads the reader through a fundamental understanding of what shapes our health; the lifestyle steps that put and keep us on track; and the unique 90-day Sicilian Diet Plan, which includes a sampling of can't-wait-to-eat-that Sicilian recipes. Using down-to-earth language, the author condenses his years of study of longevity, diet, and the connection between lifestyle and disease to show us how easy-and enjoyable-is to live long and well.
Internationally recognized medical research shows that the current Standard American Diet (SAD) and lifestyle are the cause of an epidemic of heart disease, diabetes and cancer. But, there is good news coming out of these studies, too: a good diet and thoughtful lifestyle can not only prevent serious disease-it can also reverse it. THE SICILIAN DIET offers you that plan.