Microgreens: Essential Guide for Microgreens Cultivation for Fun, Health, and Profit. How to Cultivate Green Plants and Vegetables (Paperback)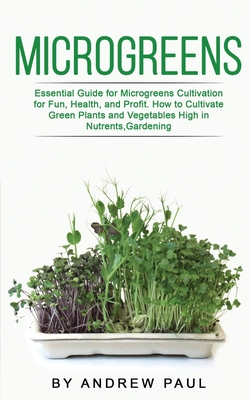 $19.89

Ships from Warehouse, Usually in 1-8 Days
Description
---
Are you looking for a new way to bring more nutrients into your life?
Have you always wondered what microgreens were and what they could do for you?
Are you interested in learning how to grow them?
If you answered yes to any of these questions, you are going to want to keep reading.
Microgreens used to just be something people would get on their plate a fancy restaurant; it was often seen as a garnish rather than a primary ingredient in a dish. They were even sometimes just a decoration, not to be eaten but to only improve the presentation of the dish. Nobody really knew what they were and it seems that a lot of people still don't. But now microgreens are starting to get the recognition they deserve, and the fact that they are super easy to grow is a bonus. Microgreens can become a staple for anyone.
Simply put, microgreens can come from pretty much any vegetable and are the greens they produce before they start to flower and grow the actual vegetable. This is sometimes confused with sprouts, but that's just one of the things this book will cover. While microgreens are not a fully grown plant, they come with their own nutrient benefits, which makes them a great addition to anybody's diet.
This book is here to help teach you all about microgreens and how to get started growing them yourself and making them a part of your meals. Microgreens aren't something that you can find readily available in all grocery stores; they are more commonly found at farmer's markets, and as such, knowing how to grow them will ensure that you can enjoy them whenever you want to, without worrying about when or where to get them.
In this book we are going to discuss:
What exactly microgreens are
The various methods of growing microgreens so that it works for you
The different types of plants that can be grown for microgreens
How to start growing your own microgreens
The many nutritional and health benefits that microgreens can provide
How microgreens can be grown for profit
How to price your microgreens if you want to sell them
How to combat pests and fungus to make sure nothing takes out your microgreens
...and much more.
Whether you are interested in growing microgreens for your personal use or for profit, this book can help you get ready to do so. Microgreens have proven their importance in all of the nutrients they can provide you. Plus, even for those who aren't that great at growing things, have had luck growing microgreens.
They do take time, patience, and some effort to grow, but if you have the right materials and you know what you should and should not do, you can have your own little microgreen garden in no time. If you are serious about learning about microgreens and growing your own, you are going to want to get this book. Don't wait any longer. Scroll up and click "buy now."
UPB open Tuesday through Friday 1PM - 6PM, Saturday Noon - 5pm
2430 Bancroft Way
The store known for serving pure brain food has returned to our old digs for a few months to sell down inventory and bid fare thee well to our decades of in-store customers.
Days and hours subject to change.
Note: This site lists what's available for special order from Ingram Content Group.
Visit our pages at Alibris or Biblio to survey in-store stock priced above $19.95.
Discount applies only to in-store purchases.
Cafe Ohlone
Once hosted by UPB, Cafe Ohlone now serves guests outside the Hearst Museum of Anthropology on the Cal campus.
Savor the foods which characterized east bay cuisine for thousands of years, before European contact. Brought to you by Mak'amham.