Leave the Gun, Take the Cannoli: The Epic Story of the Making of the Godfather (Compact Disc)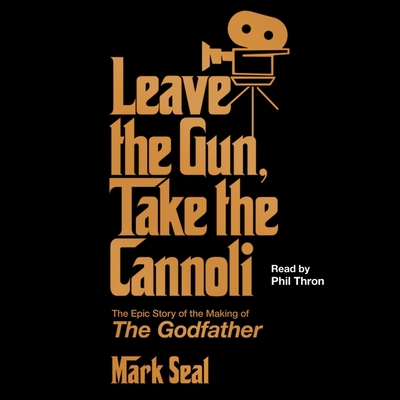 Description
---
The behind-the-scenes story of the making of The Godfather, fifty years after the classic film's original release.The story of how The Godfather was made is as dramatic, operatic, and entertaining as the film itself. Over the years, many versions of various aspects of the movie's fiery creation have been told--sometimes conflicting, but always compelling. Mark Seal sifts through the evidence, has extensive new conversations with director Francis Ford Coppola and several heretofore silent sources, and complements them with colorful interviews with key players including actors Al Pacino, James Caan, Talia Shire, and others for irresistible insights into how the movie whose success some initially doubted roared to glory. On top of the usual complications of filmmaking, the creators of The Godfather had to contend with the real-life members of its subject matter: the Mob. During production of the movie, location permits were inexplicably revoked, author Mario Puzo got into a public brawl with an irate Frank Sinatra, producer Al Ruddy's car was found riddled with bullets, men with connections vied to be in the cast, and some were given film roles. As Seal notes, this is the tale of a classic movie that revolutionized filmmaking, saved Paramount Pictures, minted a new generation of movie stars, made its struggling author Mario Puzo rich and famous, and sparked a war between two of the mightiest powers in America: the sharks of Hollywood and the highest echelons of the Mob. ​ Leave the Gun, Take the Cannoli is the lively and complete story of how a masterpiece was made, perfect for anyone who loves the movies.
UPB open Tuesday through Friday 1PM - 6PM, Saturday Noon - 5pm
2430 Bancroft Way
The store known for serving pure brain food has returned to our old digs for a few months to sell down inventory and bid fare thee well to our decades of in-store customers.
Days and hours subject to change.
Note: This site lists what's available for special order from Ingram Content Group.
Visit our pages at Alibris or Biblio to survey in-store stock priced above $19.95.
Discount applies only to in-store purchases.
Cafe Ohlone
Once hosted by UPB, Cafe Ohlone now serves guests outside the Hearst Museum of Anthropology on the Cal campus.
Savor the foods which characterized east bay cuisine for thousands of years, before European contact. Brought to you by Mak'amham.