Creative Gatherings: Meeting Places of Modernism (Hardcover)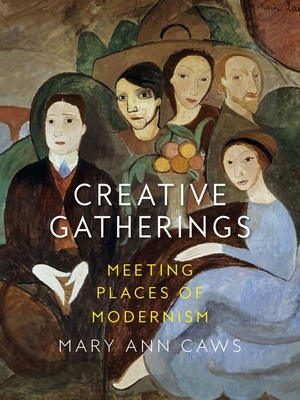 Description
---
Art is seen as a solitary, even a reclusive, endeavor. But visual artists, writers, and musicians often find themselves energized by a collective environment. Sharing ideas around a table has always provided a starting, and a continuing, place for fruitful exchanges between artists of all kinds.

In her wide-ranging new book, Mary Ann Caws explores a rich variety of gathering places, past and present, which have been conducive to the release and sustenance of creative energies. Creative Gatherings surveys meeting locations across Europe and the United States, from cityscapes to island hideouts, from private homes to public cafes and artists' colonies. Examples include Florence Griswold's house in Old Lyme, Connecticut, meeting place of the Old Lyme Art Colony; Prague's Le Louvre café, haunt of Kafka and Einstein; Picasso's modernist hangout in Barcelona, Els Quatre Gats; Charleston, gathering place of Virginia Woolf and Vanessa and Duncan Bell; and the cafés of Saint-Germain-des-Prés and Montparnasse: the hangouts of Apollinaire, Sartre, and Patti Smith. Interweaving two hundred examples of collaborative artworks throughout the text, with more than one hundred in color, Creative Gatherings is a beautiful, erudite commingling as inspiring as the gathering places Caws depicts.
About the Author
---
Mary Ann Caws is distinguished professor emerita and resident professor of English, French, and comparative literature in the Graduate School, City University of New York. She is the author of several books published by Reaktion, including Blaise Pascal, Pablo Picasso, Salvador Dalí, and The Modern Art Cookbook.
Praise For…
---
"'They were all here,' writes Caws about one of the astonishing 'creative gatherings' she summons from the aching past in this vivid, impossible-to-put-down book. The next best thing to being there is to relish this delicious mix of gossip, intense creativity, and cultural analysis. Under Caws's spell, crisscrossing the globe in search of those magical pockets of collaborative electricity, we all become what she calls 'lovers of gatherings.'"
— Christopher Benfey, Mount Holyoke College, author of "Red Brick, Black Mountain, White Clay"
"There are few scholars alive that combine erudition with first-hand experience like Caws. Caws's writing has the enigmatic, serendipitous and discursive character of the writers, poets, and artists she has spent her life with. The seemingly disparate threads of people, places, and polemics meander, intersect, and tangle in a rich warp and weft; a travelogue in time, spaces, and ideas, taking the reader on a voyage of intellectual and historical discovery. Funny, insightful, and provocative, Creative Gatherings shows that despite the ubiquity of new media, spending time together—at bars, cafés, salons and sitting rooms—remains at the heart of human creativity."
— James M. Bradburne, general director of the Pinacoteca di Brera and Biblioteca Nazionale Braidense, Italy
"Creative Gatherings documents the artists' colonies, bohemian haunts, country retreats, and favorite watering holes of some of the greatest cultural luminaries of the modern age. Rather than focus on the contributions of individual artists and writers, this enchanting book chronicles the shared lives of the various avantgarde communities across Europe in the nineteenth and twentieth centuries. Beautifully written and informed by meticulous research, [Caws's book is] an instant classic: a must-read for anyone interested in the history and legacy of modernism."
— Michael R. Taylor, chief curator and deputy director, Virginia Museum of Fine Arts
"Scholarly if not theoretical. . . .Accessible without being condescending."
— Rain Taxi Review of Books
"Caws has a discriminating eye, a catholic taste, a fine feeling for feeding. . . .She is hard to beat."
— Alex Danchev
"Adds depth to the discussion about gathering spaces in relation to creative output, artistic movements, and inspiration among artists and writers. . . . The book almost reads like a travel guide; one could imagine themselves taking it on exploratory walks through Paris, Venice, or Prague. However, the comfortable tone of the narrative should not deter librarians from including this volume in their collections. Creative Gatherings belongs in both academic and specialized art libraries, as well as on personal bookshelves."
— Amy Hunsaker