The Secret Teachings of All Ages: an encyclopedic outline of Masonic, Hermetic, Qabbalistic and Rosicrucian Symbolical Philosophy - being an interpret (Paperback)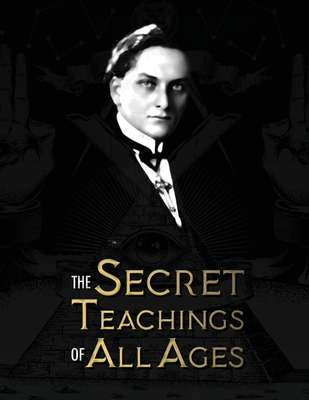 $36.19

Ships from Warehouse, Usually in 1-8 Days
Description
---
Like no other book, Manly P. Hall's legendary The Secret Teachings of All Ages is a codex to the esoteric traditions and ancient occult. Students of arcane practices, hidden wisdom and ancient symbols treasure Hall's magnum opus above all other works.
Through his meticulous exploration of occult schools through the ages, the author highlights the common esoteric philosophy that has been handed down from civilization to civilization since antiquity. As Hall explores secret societies from past to present, ancient symbols suddenly make sense, folk legends take on a new dimension, and historical mysteries begin to reveal their secrets.
In this monumental work, Hall covers topics such as Alchemy, Cryptology, Freemasonry, Gemology, Kabbalah, Mystic Christianity, Nicholas Flammel, Pythagorean Philosophy, Rosicrucianism and other Secret Societies, Tarot, the Hiramic legend, the pyramids, the Qabbalah, the Tree of the Sephiroth, the Zodiac, the identity of William Shakespeare, the teachings of Thoth Hermes Trismegistus, among others.
Unlike modern occultists, the author does not shy away from exposing the great influence of Freemasonry and other secret societies on the world today. Furthermore, he does not shy away from explaining how occultism could be used for both nefarious purposes through demonology and black magic as well as for the betterment of humankind.
It was apparent that materialism was in complete control of the economic structure, the final objective of which was for the individual to become part of a system providing an economic security at the expense of the human soul, mind, and body. -- Manly P. Hall, The Secret Teachings of All Ages
Publisher's note for the printed edition: in order to be more enjoyable during reading, this book is in 8.5" x 11" format. In the same spirit, the paper is cream-colored, which causes less fatigue to the eyes than white paper. All our publications are carefully crafted, both in terms of typography as well as design.
Publisher's note for the Kindle edition: our Kindle publications are carefully crafted, with Table of Contents, Index, Footnotes and References when applicable. A strong emphasis has been put on the typography as well as the design.
Your comments are welcome at discoverypublisher.com -- Thank you for choosing Discovery Publisher.
UPB open Tuesday through Friday 1PM - 6PM, Saturday Noon - 5pm
2430 Bancroft Way
The store known for serving pure brain food has returned to our old digs for a few months to sell down inventory and bid fare thee well to our decades of in-store customers.
Days and hours subject to change.
Note: This site lists what's available for special order from Ingram Content Group.
Visit our pages at Alibris or Biblio to survey in-store stock priced above $19.95.
Discount applies only to in-store purchases.
Cafe Ohlone
Once hosted by UPB, Cafe Ohlone now serves guests outside the Hearst Museum of Anthropology on the Cal campus.
Savor the foods which characterized east bay cuisine for thousands of years, before European contact. Brought to you by Mak'amham.