Before you buy…
We're glad to again service customers, even though our store front stays closed and we operate this web store under reduced services.
To review the limits placed on orders before you place one, just scroll to the bottom.
Of Time and Lamentation: Reflections on Transience (Paperback)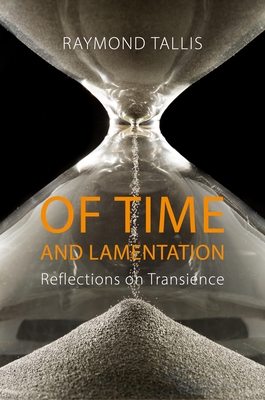 Description
---
Time's mysteries seem to resist comprehension and what remains, once the familiar metaphors are stripped away, can stretch even the most profound philosopher. In Of Time and Lamentation, Raymond Tallis rises to this challenge and explores the nature and meaning of time and how best to understand it. The culmination of some twenty years of thinking, writing, and wondering about (and within) time, it is a bold, original, and thought-provoking work. With characteristic fearlessness, Tallis seeks to reclaim time from the jaws of physics. For most of us, time is composed of mornings, afternoons, and evenings and expressed in hurry, hope, longing, waiting, enduring, planning, joyful expectation, and grief. Thinking about it is to meditate on our own mortality. Yet, physics has little or nothing to say about this time, the time as it is lived. The story told by caesium clocks, quantum theory, and Lorentz coordinates, Tallis argues, needs to be supplemented by one of moss on rocks, tears on faces, and the long narratives of our human journey. Our temporal lives deserve a richer attention than is afforded by the equations of mathematical physics. For anyone who has puzzled over the nature of becoming, wondered whether time is inseparable from change, whether time is punctuate or continuous, or even whether time itself is real, Of Time and Lamentation will provoke and entertain. Those, like Tallis himself, who seek to find a place at which the scientific and humanistic views of humanity can be reconciled, will celebrate his placing of human consciousness at the heart of time, and his showing that we are "more than cogs in the universal clock, forced to collaborate with the very progress that pushes us towards our own midnight.
About the Author
---
Raymond Tallis was professor of geriatric medicine at the University of Manchester and was elected a Fellow of the Academy of Medical Sciences for his research in clinical neuroscience. He retired from medicine in 2006 to become a full-time writer. The Economist lists him as one of the world's leading polymaths.
STOREFRONT CLOSED TILL FURTHER NOTICE
Nevertheless, UPB provides ship-to-home service.
Until our on-line fulfillment team returns, everything you purchase from us comes from a warehouse.
Much of what we used to carry on store shelves is available, except for very expensive books, used books, and titles fallen between printings. ,/p>
A number of limitations apply during this period of reduced operations:
Only orders that subtotal under $75.00 will ship.
Thus, we may remove items from a multi-book order and ask you to resubmit them on a separate order.
Sometimes we may have to split an order because books are stocked at different warehouses. Sorry, it's impossible to tell in advance when this may happen.
Credit card orders only
Billing addresses must match shipping addresses.
Many high demand titles ship fairly quickly. Most other titles travel from back east, adding 2 to 3 days to delivery
Althoug we love you in Canada, Latin America, and else where, U.S. orders only.
Certain publishers set low margins on certain titles. Sorry, we've had to raise prices on these, some we don't offer at all.
Mid-summer, these policies may loosen up, if we resume shipping stock ourselves.
You can also purchase eBooks and audio books through us. Distributed by Hummingbird, they include publications from the major trade publishers. Just access the menu link or the sidebar image above.
We greatly appreciate your support of the store with your book orders. Need a book without our current shopping restrictions? We recommend Bookshop. View our affiliate page, then search for whatever book you'd like.
---
No reading groups nor author events will meet until it seems reasonably safe to do so, even after the store front opens.
---
We're riding eventualities as they unfold and cannot predict when the store front will open and gatherings resume. The Cafe Ohlone has also closed. Check their website for word of their plans as circumstances enable them to form them.
Should you have questions, email us via our contact form. Since none of will be keeping regular hours, it may take a day or two to get back with you.
From 1974, University Press Books has stoked the blaze of well over ten thousand minds on fire, carrying new scholarship published by the great university presses in the English-speaking world.
Since our founding, we've added quality fiction and creative non-fiction to our selection, without drfiting from our mission to showcase top new texts introduced by university presses.
Order from us. Visit us. Let well-wrought words churn and burn within.