Myanmar's Enemy Within: Buddhist Violence and the Making of a Muslim Other (Paperback)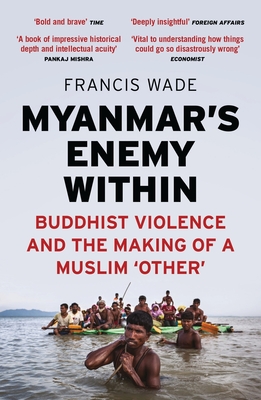 Description
---
In 2017, Myanmar's military launched a campaign of violence against the Rohingya minority that UN experts later said amounted to a genocide. More than seven hundred thousand civilians fled to Bangladesh in what became the most concentrated flight of refugees since the Rwanda genocide of 1994. The warning signs of impending catastrophe that had built over years were downplayed by Western backers of the political transition, and only when the exodus began did the world finally come to acknowledge a catastrophe that had been long in the making.
In this updated edition of the book that foreshadowed a genocide, Francis Wade explores how the manipulation of identities by an anxious ruling elite laid the foundations for mass violence. It asks: who gets to define a nation? How can democratic rights be weaponized against a minority? And why, at a time when the majority of citizens in Myanmar had begun to experience freedoms unseen for half a century, did much-lauded civilian leaders like Aung San Suu Kyi become complicit in the most heinous of crimes?
About the Author
---
Francis Wade is a freelance journalist. His work has appeared in the Guardian, Al Jazeera English, Asia Times Online, Foreign Policy, and Los Angeles Review of Books. He previously worked as an editor and reporter for the Democratic Voice of Burma, an exiled Burmese news organization based in Thailand.
 
Linsey McGoey is a faculty member at the University of Essex. She is the author of No Such Thing as a Free Gift and coeditor of the Routledge Handbook of Ignorance Studies,and she has written for the Guardian, Times, Spectator, Jacobin, and Fortune.
Praise For…
---
"Lucid . . . exceptionally timely . . . vital to understanding how things could go so disastrously wrong. Wade predicted the miserable fate of Myanmar's hated Muslim minority."
— Praise for the previous edition
"Bold and brave. . . . Wade's book tells the personal stories of Muslim and Buddhist characters who have animated the tragic scenes of Myanmar's deadly morality play."
— Praise for the previous edition
"The roots of ethnic and religious conflict in Myanmar, especially in relation to anti-Muslim hatred, stretch back further than is often acknowledged. By training his analysis on relatable perspective via rich reporting, Wade seeks to trace the lineage of violence, for which some of Myanmar's present-day leading lights and even venerated monks are culpable, in an investigation that's at once illuminating and sobering."
— Praise for the previous edition
"Wade's book is grounded in his reporting, which is rich in detail and the voice of Burmese people. . . . Myanmar's Enemy Within is not just about the Rohingya. It also describes the discrimination face by other minority ethnic or religious groups in the country."
— Praise for the previous edition