Mussolini's Dream Factory: Film Stardom in Fascist Italy (Paperback)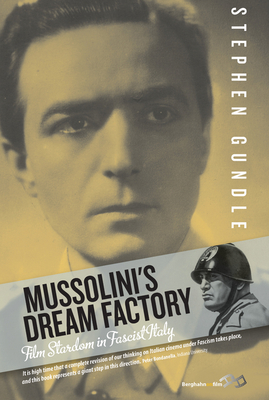 $43.69

Ships from Warehouse, Usually in 1-8 Days
Description
---
"Gundle has written the book that will become a standard in the fields of historiography on Italian Fascism, Italian Fascist cinema and film scholarship on star culture. The mixture of intimate sources such as diaries, letters and photographs with exhaustive archival material breathes life into this period, allowing us new and necessary insight on this complicated era of cinematic and Italian history."
- Historical Journal of Film, Radio and Television
"This is an outstanding book in every respect. It is beautifully written, clear, concise, no professional jargon, yet based on a confident grasp of all the relevant criticism as well as primary sources in a number of languages...It is high time that a complete revision of our thinking on Italian cinema under fascism takes place, and this book represents a giant step in this direction." - Peter Bondanella, Emeritus, Indiana University
The intersection between film stardom and politics is an understudied phenomenon of Fascist Italy, despite the fact that the Mussolini regime deemed stardom important enough to warrant sustained attention and interference. Focused on the period from the start of sound cinema to the final end of Fascism in 1945, this book examines the development of an Italian star system and evaluates its place in film production and distribution. The performances and careers of several major stars, including Isa Miranda, Vittorio De Sica, Amedeo Nazzari, and Alida Valli, are closely analyzed in terms of their relationships to the political sphere and broader commercial culture, with consideration of their fates in the aftermath of Fascism. A final chapter explores the place of the stars in popular memory and representations of the Fascist film world in postwar cinema.
Stephen Gundle is Professor of Film and Television Studies at the University of Warwick. His books include Between Hollywood and Moscow: the Italian Communists and the Challenge of Mass Culture, 1943-91 (2000), Bellissima: Feminine Beauty and the Idea of Italy (2007), Mass Culture and Italian Society from Fascism to the Cold War (2008, with David Forgacs), Glamour: A History (2008) and Death and the Dolce Vita: The Dark Side of Rome in the 1950s (2011). He is co-editor, with Christopher Duggan and Giuliana Pieri, of The Cult of the Duce: Mussolini and the Italians (2013).