Man vs Maths: Everyday mathematics explained (Paperback)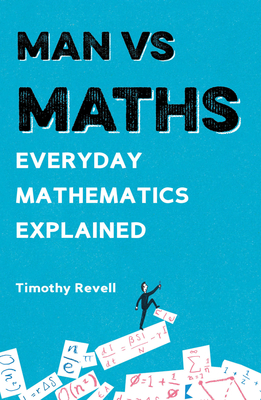 Description
---
Man vs Maths explains the complexities of the mathematics of modern life, showing how understanding a little more maths can improve your life and how to use it to your advantage. Plus along the way you'll discover how social media trends work, why the universe has a favourite number and what this means for you.

Mathematics is inescapable. Wherever you go, whatever you do, however you live your life, mathematics plays an important role. From controlling a city's traffic to finding love, spending money online to building a skyscraper, the mathematics at play in our world is fascinating. Yet despite its ubiquity, for many of us, how the maths of today really works remains complex.

​Mathematician Timothy Revell distills these complexities in this essential guide to modern-day mathematics, exploring questions such as; Could we solve queuing with an equation?  How do algorithms control our news?  What is the secret behind encryption codes?
About the Author
---
Timothy Revell has a Masters in mathematics and a PhD in computer science, but despite this he still struggles with long division. He has worked with BBC Horizon, The Naked Scientists radio show – one of the world's most popular science shows, and writes for New Scientist. Timothy learnt his trade running an award-winning science communication group in Glasgow called the GIST, producing articles, videos and podcasts. He loves mathematics and thinks that everybody else should too.