Crow (Paperback)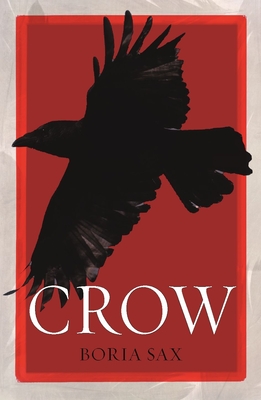 Description
---
Though not generally perceived as graceful, crows are remarkably so—a single curve undulates from the tip of the bird's beak to the end of its tail. They take flight almost without effort, flapping their wings easily and ascending into the air like spirits. Crow by Boria Sax is a celebration of the crow and its relatives in myth, literature, and life.

Sax takes readers into the history of crows, detailing how in a range of cultures, from the Chinese to the Hopi Indians, crows are bearers of prophecy. For example, thanks in part to the birds' courtship rituals, Greeks invoked crows as symbols of conjugal love. From the raven sent out by Noah to the corvid deities of the Eskimo, from Taoist legends to Victorian novels and contemporary films, Sax's book ranges across history and culture and will interest anyone who has ever been intrigued, puzzled, annoyed, or charmed by these wonderfully intelligent birds.
About the Author
---
Boria Sax is a lecturer in literature in the graduate program of Mercy College in Dobbs Ferry, New York, as well as at Sing Sing and Taconic Prisons. He is the author of many books, including Imaginary Animals, Crow, and Lizard, all also published by Reaktion Books
Praise For…
---
"In this vivid and enjoyable meditation on crows in art, literature, and history, Sax gives the genus Corvus the enthusiastic treatment it deserves."
— Publishers Weekly
 "Sax's book roams divertingly over the scientific and cultural history of the 'corvid' family, which includes the carrion crow, the raven, the rook, and the jackdaw, tracing ambivalent responses to the mischievous birds."
— Guardian
"Boria Sax's Crow takes a broadly chronological approach, with an intriguing digression on scarecrows. There are strong themes in the way different cultures have thought about crows (and ravens)."
— Independent
"Sax looks at how [crows] have been at the center of myth, culture, and religion throughout human history, often as birds of ill omen or at least negative associations. It's an easy read despite the great wealth of material included, and the author keeps things grounded in accurate observation of the behavior of real-life birds. Enjoyable and educational for birders of all levels."
— Bird Watching
"This authoritative and well-researched volume is an ideal source of reference for anyone who has ever been intrigued, annoyed or charmed by these wonderful birds"
— Matt Smith
"A pleasure to read. I found it enjoyable, if somewhat disconcerting, to learn that the crow and its relatives have indeed been viewed in so many ways by humans and continue to be a soure of mystery and charm for us today."
— Penny Bernstein
"The sort of monograph I treasure and seek out, a work that draws together around a totem animal centuries of relevant lore, a richness of iconographic treatments and the best natural history and natural science available to a lay researcher and engaged author"
— David Scofield Wilson
"A fascinating and delightful book. . . . An excellent read for anyone interested in this group of birds."
— British Trust for Ornithology