Sustainable Minimalism: Zero Waste Living. Habits, Decluttering and Design for a Simpler and Authentic Life (Paperback)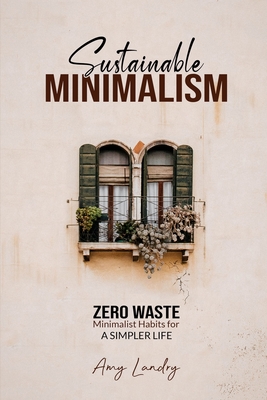 $18.99

Ships from Warehouse, Usually in 1-8 Days
Description
---
★ Practical Tips to Start Living as A Sustainable Minimalist ★
As you may already know, it is very common for people to attach much more importance to material things than they should. Minimalism helps us make room for the truly important things in life: our passions, what drives us, our family, our health, etc. But, it also helps us be more conscious of the environment as minimalism and sustainability go hand-in-hand. Living a minimalist lifestyle often brings us very close to also living a sustainable lifestyle. Let's look at how we can take that extra step to protect our planet.
A SUSTAINABLE LIFESTYLE is not only easy to achieve but if done right it can be a really rewarding experience. In this book you'll find some easy tips to lead a more sustainable lifestyle.
The DIDEROT EFFECT: Why We Want Things We Don't Need
The phenomenon, "part psychological, and part deliberate manipulation," drives heedless shopping and creates needless waste.
There are more examples of the Diderot Effect all around us:
We buy a new shirt or dress... and immediately begin looking for new shoes to match, instead of maintaining a minimalist wardrobe.
We bring home a new couch... and suddenly the end tables in our living room appear old and shabby, in need of replacement.
We purchase a new car... and soon begin spending money on car washes, more expensive gasoline, or a parking pass.
We move into a new home... and use the occasion to replace our existing bedroom set with a new one.
In each circumstance, the reality is that we already owned enough shoes and our end tables and bedroom furniture worked just fine before. But because something new had been introduced into our lives, we were immediately drawn into a process of spiraling consumption.
This is only one chapter that you'll find in this book. Want to read more? Buy this book and start your new life TODAY.
Also, inside you'll learn:
PROJECT 333
MINIMALIST RACE
MINIMALISM AT HOME
4 STEPS TO START A MINIMALIST LIFE
BECOMING AWARE CONSUMERS
REDUCE PLASTIC WASTE IN 14 STEPS
THE CARBON FOOTPRINT
DIFFERENCE BETWEEN SUSTAINABILITY AND MINIMALISM
THE DECLUTTERING
MARIE KONDO 'S RULES FOR HOME DECLUTTERING
20 MINIMALIST HABITS FOR A SIMPLER LIFE
TEACHING SUSTAINABLE MINIMALISM TO CHILDREN
CREATING A MINIMAL WARDROBE FOR CHILDREN
FURNITURE, FURNISHINGS, AND ACCESSORIES FOR THE HOME
MINIMALISM SKINCARE
APPLY MINIMALISM TO THE KITCHEN
THE THOUGHT OF FUMIO SASAKI
And much more
UPB open Tuesday through Friday 1PM - 6PM, Saturday Noon - 5pm
2430 Bancroft Way
The store known for serving pure brain food has returned to our old digs for a few months to sell down inventory and bid fare thee well to our decades of in-store customers.
Days and hours subject to change.
Note: This site lists what's available for special order from Ingram Content Group.
Visit our pages at Alibris or Biblio to survey in-store stock priced above $19.95.
Discount applies only to in-store purchases.
Cafe Ohlone
Once hosted by UPB, Cafe Ohlone now serves guests outside the Hearst Museum of Anthropology on the Cal campus.
Savor the foods which characterized east bay cuisine for thousands of years, before European contact. Brought to you by Mak'amham.