Red Dust & Cicada Songs (Paperback)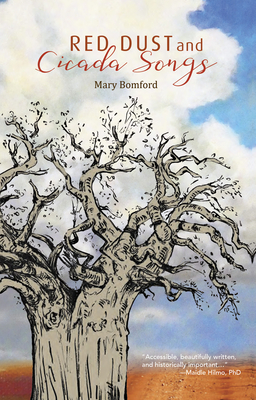 $19.00

Ships from Warehouse, Usually in 1-8 Days
Description
---
Writer and educator Mary Bomford describes the formative years of her life working as a teacher in Zambia, and the long-lasting impact those years imprinted upon her.

At the age of 21, Canadian teacher Mary Bomford and her husband of just eight weeks embarked on a journey that would directly alter their careers, their marriage, and their family. That journey would trace an invisible but palpable thread through the rest of their lives. Enticed by dreams of adventure, in 1969 Mary and her husband Larry moved to Lundazi, a town near the eastern border of Zambia to work as CUSO volunteers in a secondary school. At the time, the country, a nation newly independent after decades of colonialism, was looking for volunteers to fill the teacher shortage until enough young Zambians had completed their teacher training. New to marriage, teaching, and Zambia, Mary embarks on a profound journey connecting them to the country, their students, and their colleagues. Zambia gave them the experience of a second home, filled with moments of delight in the beauty of the area and enriched by the culture of the Zambian people. Years later, Mary reflects on her experiences of the landscape, culture, and people in the hopeful time following independence. Red Dust & Cicada Songs is an exploration of the deep and lasting connection she still feels for her time in Zambia.
About the Author
---
Mary Bomford has written a series of family histories including Lou Hamel: CPR Telegrapher, held in the Camrose Railway Museum, and Yvonne's Yesterdays, held in the archives of the Sisters of St. Ann, Pacific Northwest. Mary has volunteered for Amnesty International and raised funds for African AIDS Angels. She worked in Special Education for most of her teaching career. As an early-primary reading specialist, she wrote a series of personalized beginning readers for her students, and in retirement, has written for her grandchildren.