Christmas delivery ends December 13th
We much appreciate how you've made UPB your holiday shopping destination.
Keep in mind, though, that it can take time for books to arrive at your desired shipping address. Sometimes titles have to cross the country from their warehouse location.
Therefore we recommend that you place your gift orders by December 13th to maximize delivery chances before December 25th.
15 Reasons people voted for Trump in 2016: and why these don't apply in 2020 (Paperback)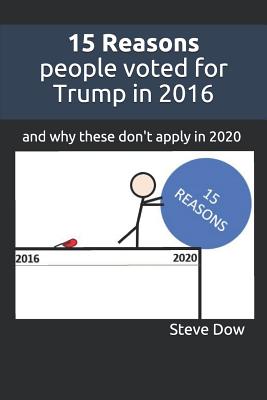 $10.50

Ships from Warehouse, Usually in 1-8 Days
Description
---
"15 Reasons..." is one person's attempt at having his voice heard.
The author describes himself only as "a United States citizen and voter" because that is all that matters in this case. He is not a celebrity, a social media performer, a politician, or a pundit. You have not heard of him before and he has no expectation of future fame. He is an ordinary American... but he has something to say, and he says it here.
There are volumes of text written about Trump's inclinations towards racist and/or misogynistic behavior and this book does not address those claims in any detail. Such claims, after all, were well known to the Trump voter in 2016, and that fact did not prevent a Trump presidency. This book instead goes to the thinking of the Trump voter herself.
It lists 15 seemingly practical reasons that people gave for voting Trump in 2016 and then puts the Trump presidency up against the light of this reasoning. This efficient text provides thoughtful analysis and ample documentation supporting its primary claim, which is that the noted reasons given to vote for Trump in 2016 no longer apply in 2020.
It is understood that people who are Trump-diehards will likely not be swayed by this book, but if you have some doubts and are merely leaning towards a 2020 Trump vote (or you know someone who is), this book is a compact reminder of why further exploration of those doubts is warranted.
This book also isn't just for the right-leaning. It is for all citizens that expect more from our governmental system, recognizing that we as its citizenry should be the ones most central to it. This requires that we be responsible and honest. We need the courage to be able to think for ourselves and handle "tribal tremors" that threaten to shake us from the party line of our political team.
Each of the 15 reasons is presented with a brief explanation of the thinking in 2016, a 2019 update reviewing the Trump administration related to that reason, and then a direct ask from the author to the reader.