Recovering From Narcissistic Abuse: How to Heal from Toxic Relationships and Emotional Abuse (Paperback)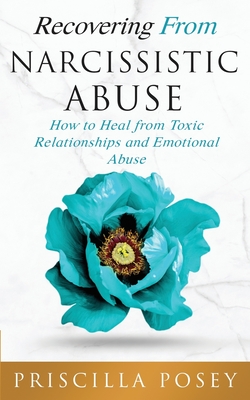 $19.95

Ships from Warehouse, Usually in 1-8 Days
Description
---
If you want to recover from narcissistic abuse and heal from a toxic relationship as quickly as possible without taking any antidepressants or giving up who you are..regardless of how long ago the narcissistic abuse happened, then, keep reading..

Have you ever wondered why you cannot stop thinking about the narcissist that was in your life?
Perhaps that person texted or called you, and, you did not know how to respond.
Despite your best efforts, you always feel trapped in a continuous cycle and stuck on your journey to recovering from narcissistic abuse.
Here's the deal:
Recovering from narcissistic abuse and healing from a toxic relationship doesn't have to be difficult. Even if you've tried other solutions which didn't work before. This book is the solution.
You don't need to: Spend hundreds of dollars and countless hours on counseling. Save your time and money.
You don't need to: Take harmful antidepressents. It's much simpler than that.
You don't need to: Keep yourself busy to distract yourself from the pain. In fact, this is very counterproductive.
You don't need to: Replace the love of the narcissist, with the love from someone else. It might make you crave the attention of the narcissist even more.
You don't need to: Spend more of your time researching narcissists. This is one of the worst things you can be doing on your road to recovery.
Those are just a few of the behaviors people do that keeps them from recovering from narcissistic abuse, being happy, feeling free, and able to trust someone again..
And, in this book you're going to learn something most people will never know...
This is the exact step-by-step guide on how to move on with your life...

Here are just a few things that you are going to discover in this book:
The simple 3 step process to help you quickly identify a narcissist. This method is used by psychological experts.
The surprising physical impact narcissistic abuse has on your brain and how to reverse the damage.
How to reclaim your power after narcissistic abuse.
Physical items that promote healing by stimulating your senses. These items stimulate the part of your brain that was damaged from narcissistic abuse.
8 ultimate strategies to help you recover from narcissistic abuse. One particular strategy forces your brain to grow and heal.
8 common roadblocks to the road to recovering from narcissistic abuse and how to conquer them.
How to increase the production of a particular hormone in your body. This hormone will increase your self esteem and confidence.
A little-known healing technique created by a psychologist that you can do all on your own without a therapist. These are the same techniques utilized by PTSD patients.
And a whole lot more
The bottom line is you CAN recover from narcissistic abuse and toxic relationships, without spending a lot of money on a therapist. This book shows you how.

Special bonus for readers
With this amazing book, you'll also get a FREE reference guide on how to recognize abusive relationships.
So if you are ready to recover from narcissistic abuse and invest in your well-being, then claim your copy right now