Belonging At Work: Everyday Actions You Can Take to Cultivate an Inclusive Organization (Hardcover)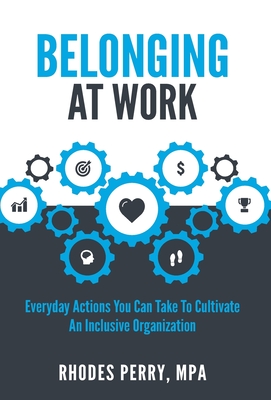 $28.65

Ships from Warehouse, Usually in 1-8 Days
Description
---
"It's virtually impossible to be successful in one's work in any kind of group - be it a corporation, a deep-sea fishing crew, or a rock and roll band - without feeling a sense of belonging. Most of us have had the experience of working where we didn't really fit in, and sure, we can pull in that paycheck for a while, make do, hang in there, but how long do those jobs ever last, especially if we want to be honest with ourselves or have a healthy work-life balance? It's easy to say, 'No job is ever perfect. You're not supposed to like it; that's why they call it work ' But why settle for barely adequate productivity, creativity, or new hire return on investment when you can harness the synergy of belonging? Leaders and aspiring leaders who want to succeed should look to Rhodes Perry for inspiration and guidance. Belonging at Work really does matter" - Jamison Green, Ph.D., Author, Educator, Community Leader, and Corporate Executive
Belonging at Work empowers business leaders, change agents, visionaries, and those on their way to joining them with the knowledge, skills, and confidence to build inclusive organizations. The personal stories, case studies, and practical strategies featured in the book offer everything you need to cultivate workplace cultures where all of your stakeholders can show up authentically and feel valued and respected for their contributions. Rhodes Perry's visionary book serves as a blueprint for the future of work. His message inspires leaders at all levels within the organization to join the #BelongingMovement focused on positively impacting workplace cultures around the globe.
Belonging at Work helps you understand:
- What it means to belong.
- Why belonging matters to the future of work.
- How leaders can positively impact workplace culture.
- Where to find concrete strategies and connect with culture change thought leaders.
- Strategies to hold yourself accountable to be the change you want to see in the workplace.
Praise for Belonging At Work:
"Belonging at Work is long overdue. Rhodes Perry's work is a testament to the power of living with authenticity at all hours of the day, at home and at work. Wherever you are in your journey of living an authentic, purposeful life, this book is a powerful tool that should be required reading in all workplaces that value diversity and full inclusion."- James R. Nowlin, CEO of EGP Ventures, Keynote Speaker, and Best-Selling Author of The Purposeful Millionaire
"Rhodes Perry is an invaluable and important voice on our emerging understanding of what makes truly great workplace cultures: the ability for all of us to bring our full selves to work. He clearly lays out what gets in the way of this, particularly for those who are underrepresented, and historically undervalued, both from a personal lens of his LGBTQ experience, and on behalf of so many other lost and marginalized voices. Make no mistake, organizations and their bottom lines suffer from unexplored exclusionary practices. The book is full of practical examples of how we all have a role to play in redirecting the dynamics of exclusion, so that all in the workplace can thrive. A must read " - Jennifer Brown, President & CEO, Jennifer Brown Consulting, and Best-Selling Author, Inclusion: Diversity, the New Workplace & the Will to Change