The Secret to Getting Along (And Why It's Easier Than You Think): 3 Steps to Life-Changing Conflict Resolution (Hardcover)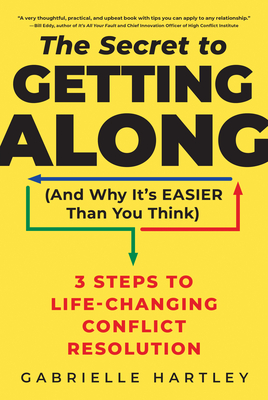 $26.99

Ships from Warehouse, Usually in 1-8 Days
Description
---
Named as a Next Big Idea Club Must Read!
Is it possible to get along better? Yes, with 3 simple steps for conflict resolution!
Conflict is everywhere—in our homes, at work, on our social media feeds. But conflict isn't inherently bad… in fact, it's a normal and healthy part of human relationships, but many of us aren't good at managing conflict in our everyday lives. In The Secret to Getting Along (And Why it's Easier Than You Think!), attorney Gabrielle Hartley brings more than two decades of divorce mediation experience to helping you learn how to resolve conflict in ways that strengthen your relationships, reflect your values, and lead to positive outcomes for everyone involved. This practical and accessible guide to everyday conflict resolution will help you:
Reframe your approach to conflict
Find your way to more harmony and less discord
Create better outcomes even in your most difficult relationships
Experience more peace even when relationships don't go well
Strengthen your skills in resolving conflicts of all shapes and sizes
Feel more connected to the important people in your life
Whether you're fighting with your partner about housework, struggling to set boundaries with a difficult family member, or dealing with a toxic coworker, The Secret to Getting Along (And Why It's Easier Than You Think!) is a necessary resource for navigating difficult conversations and situations—and finding the solutions that will help you create a peaceful, less stressful, and more fulfilling life.
About the Author
---
Gabrielle Hartley, Esq., Co-Chair of the American Bar Association Mediation Committee, is a nationally recognized divorce attorney, online mediator, divorce strategy coach and author of Better Apart: The Radically Positive Way to Separate. Gabrielle is known for her unique, non-toxic approach to divorce that she has developed over twenty-five years.
Praise For…
---
"A very thoughtful, practical, and upbeat book! There are many tips and tools you can learn to apply to any relationship or friendship. By starting with self-awareness, the author brings greater clarity to our own part in relationships conflicts. We are often part of the problem and changing our own approach is so much easier than trying to change the other person (which never works). You will find that Hartley's 3-step method is easy and rewarding to apply, with plenty of clear steps and lists for self-improvement." —
Bill Eddy, author of It's All Your Fault: 12 Tips for Managing People Who Blame Others for Everything
"It really is easier than you think to avoid conflict and get along better. In this book, Gabrielle Hartley shows you how." — Lisa Zeiderman, Esq., Managing Partner of Miller Zeiderman, LLP
"Reading this book will change everything you thought you knew about conflict resolution and how to actually get along better. " —
Natasha Sizlo, author of All Signs Point To: A Memoir of Love, Loss, and Paris
"Gabrielle Hartley's approach to conflict resolution is simple, effective, and potentially life-changing. A must-read in this world that feels increasingly at odds!" —
Susan Guthrie, Esq, co-founder and CEO, Mosten Guthrie Academy
"I wish everyone would read this book before they come into my office. I often see people giving up on relationships because of a conflict they just couldn't resolve. The Secret to Getting Along (And Why it's Easier Than You Think) offers step-by-step tools to manage conflict and move through it so you can actually have greater connection. The goal is not to win but to feel seen and heard. Gabrielle has done it again with another pivotal book." —
Elizabeth Cohen, PhD, clinical psychologist and author of Light at the Other Side of Divorce
"In her new book,
The Secret to Getting Along
, attorney and mediator Gabrielle Hartley offers readers a practical, insightful guide to managing the conflict that is part of everyday living more effectively and more mindfully. Her YES method will help people restructure their relationships and their lives from the inside out. With helpful exercises, real life examples and touching personal revelations, Ms. Hartley has crafted a well-written, accessible book loaded with essential tools and key takeaways for all types of situations. I will surely be recommending this wonderful book to friends, family members, colleagues and clients!" —
Sharon Saline, Psy.D., author of What Your ADHD Child Wishes You Knew
"
The Secret to Getting Along
is a smart, comprehensive, user-friendly guide for navigating conflict to enjoy healthy relationships with not only other people, but also ourselves. Hartley gives us specific, time-tested tools and insights, culled from her deep experience as a professional mediator, that allow us to make good choices in service of both our own sanity and in keeping the people who matter in our lives, even when we disagree. I can't recommend this book enough, especially in these conflict-riddled times, when our impulses are to either argue with or walk away from those who don't share our beliefs. Chock full of stories, exercises, and useful details, it's a great read!" —
Jill Sherer Murray, award-winning journalist and author of Big Wild Love: The Unstoppable Power of Letting Go
"There are several gems in this book, but what stands out the most is Gabrielle's focus on the need for self-awareness -- becoming more capable of recognizing the impact of our actions on others. It is clear that NOT being aware is a major source of conflict and by holding a mirror up to ourselves, we not only improve our capacity to manage conflict, but puts us on a path to our own growth and development." —
Donna Hicks, PhD, author of Dignity: Its Essential Role in Resolving Conflict 
"You can't let one bad moment spoil a bunch of good ones. Don't let the silly little dramas of each relationship get you down. As Gabrielle Hartley has said in
The Secret to Getting Along
, navigating conflict starts on the inside. You can't control other people, but you can control how you show up in a relationship, on both good days and tough ones. And Gabrielle's book is a wonderful guide to getting it right." —
Marc and Angel Chernoff, New York Times bestselling authors of Getting Back to Happy
"Hartley urges readers to listen carefully and respond rather than react, keeping tempers intact and communications open." — Booklist
"Recommended for anyone seeking to achieve accord or successful resolutions in the face of opposition." — Library Journal