LEGO Technic Non-Electric Models: Simple Machines (Paperback)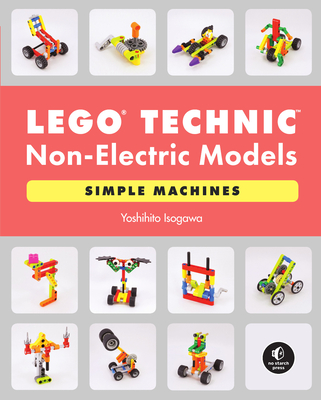 $24.99

Ships from Warehouse, Usually in 1-8 Days
Description
---
Master builder and LEGO luminary Yoshihito Isogawa helps you build more than 100 creative, non-electric models with LEGO Technic parts. Part of a two-volume set.

This book in the LEGO Technic Non-Electric Models series features 141 motor-free devices for you to build and operate. Each project includes full-color photographs from multiple angles and illustrated Technic parts to help you follow along. The models range from basic mechanisms that showcase the power of gears and rotation to moving vehicles that demonstrate linear, oscillating, rotary, and reciprocating motion.

The Technic models in Simple Machines require no electric elements or sensors. Instead, they operate with cranks, chains, cams, rack-and-pinion gears, rubber bands, weights, and flywheels. As you explore these projects and develop your building skills, you'll be inspired to create your own mechanical marvels.

This Technic guide is part of a series, and the brainchild of master builder Yoshihito Isogawa. Each book in the series is filled with vibrant photos of Isogawa's unique non-electric models, which will fire up the imaginations of LEGO builders of all ages.

Imagine. Create. Invent. Now, what will you build?
About the Author
---
Yoshihito Isogawa is a LEGO luminary with over fifty years of building experience. In addition to running Isogawa Studio, Inc., he regularly holds LEGO workshops, lectures at schools and science museums, and creates LEGO models for events and exhibitions. He is the author of the popular LEGO Technic Idea Book series, The LEGO Power Functions Idea Books, The LEGO MINDSTORMS EV3 Idea Book, and The LEGO BOOST Idea Book (all No Starch Press), as well as other Japanese-language LEGO titles.
Praise For…
---
"If you ever wanted to understand how basic machines work or how to properly utilize gears to create motion, then the LEGO Technic Non-Electric Models: Simple Machines book is a great place to start your exploration. Yoshihito Isogawa truly is a master of his craft, and there is no better teacher to learn it from."
—JustJon.net

Praise for The LEGO Technic Idea Book series

"I can emphatically state that no self-respecting LEGO fan should exclude this series from their library."
—Bricks in my Pocket

"These are an invaluable set of books to have as a reference to build mechanisms."
—BrickJournal

"These are excellent books showing a lot of great ideas for LEGO mechanisms. Even if you're an experienced builder, there are surely some ideas in here you've never seen."
—Brickpile

"I cannot recommend LEGO Technic Non-Electric Models: Simple Machines and LEGO Technic Non-Electric Models: Clever Contraptions highly enough for somebody looking to include mechanisms in their own models . . . There is plenty of clearly presented information to help a reluctant beginner to start experimenting and for the seasoned builder to expand their repertoire."
—The Rambling Brick

"For those new to Technic building, the Simple Machines book is indispensable."—The NXT STEP Blog
"These books look fantastic."
—Boing Boing

"For anyone who loves Lego, prototypes in Lego, or loves mechanical assemblies, these books are definitely required viewing, and we're not sure how we lived without them for so long."
—Evil Mad Scientist Laboratories

"My whole family thoroughly enjoyed the books. If you're a Lego fanatic, you'll love them too."
—The Father Life

"What I like about these cool little models is that they can be used to teach various science concepts such as gearing, Newton's Laws, and Potential & Kinetic energy—to name a few."
—The Robotic Realm

"Because the models range from practical tools for lifting, gripping, shooting, and measuring, to working gadgets, the immediate use of each tool was what enhanced our interest the most. The fact that they also demonstrate principles of mechanical engineering added to the fun."
—Mariana Ruiz, GeekDad