44 Abstract Adults Coloring book: Abstract Coloring Books For Adults Thick Paper Abstract Art Coloring Book Mandala Coloring Books ... Book Adults Abs (Paperback)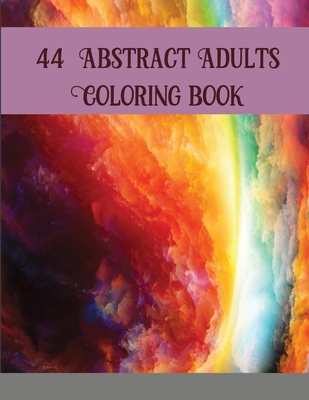 Description
---
A Ridiculous Abstract Adult Coloring Book features 44 abstract coloring pages that will be sure
to help you relieve stress and relax. Search out the mystery of the cosmos with me through these highly
detailed, subconscious illustrations. Clear your mind and relax I hand draw each and every one of these
coloring pages with the use of automatism, a process where I let the inky forms come out from my brain
naturally without conscious thought.
I need your help to creatively join forces with me and tackle the most important creative step for my art;
Color I am not the best with color;
seriously, please help transform these ridiculous abstract drawings
into something truly remarkable
44 hand drawn, unique and ridiculous designs to color
Images are printed single side only.
Variety of designs varying from complex & intricate to simple & soothing.
Each creative design will help relax your mind and put you in a glorious state of being
Use your weapon of choice - pencils, pens, markers... I don't recommend crayons.;)
Why You Will Love this Book:
44 authentic large Abstract Patterns illustrations
One-sided pages. Each coloring page is printed on a separate sheet to avoid spilling.
8.5"x11" White-color paper
Matte Finish Cover for an elegant look and feel
Coloring books make wonderful gifts. Which gifts will you need soon? Buy now and have your
gifts ready in advance. Coloring books are great for any holiday or special occasion.
Christmas Gifts, Stocking Stuffers
Easter Baskets, Gift Bags
Family Vacations & Travel
Birthday & Anniversary Presents
Valentine's Day, Mother's Day
Makes a Wonderful Gift
Buy Now and Relax It's Guaranteed To Love.