Conservatism: A Rediscovery (Hardcover)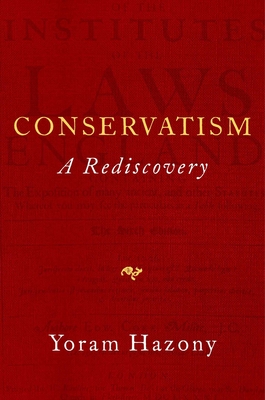 $29.99

Ships from Warehouse, Usually in 1-8 Days
Description
---
The idea that American conservatism is identical to "classical" liberalism—widely held since the 1960s—is seriously mistaken.

The award-winning political theorist Yoram Hazony argues that the best hope for Western democracy is a return to the empiricist, religious, and nationalist traditions of America and Britain—the conservative traditions that brought greatness to the English-speaking nations and became the model for national freedom for the entire world.

Conservatism: A Rediscovery explains how Anglo-American conservatism became a distinctive alternative to divine-right monarchy, Puritan theocracy, and liberal revolution. After tracing the tradition from the Wars of the Roses to Burke and across the Atlantic to the American Federalists and Lincoln, Hazony describes the rise and fall of Enlightenment liberalism after World War II and the present-day debates between neoconservatives and national conservatives over how to respond to liberalism and the woke left.

Going where no political thinker has gone in decades, Hazony provides a fresh theoretical foundation for conservatism. Rejecting the liberalism of Hayek, Strauss, and the "fusionists" of the 1960s, and drawing on decades of personal experience in the conservative movement, he argues that a revival of authentic Anglo-American conservatism is possible in the twenty-first century.
About the Author
---
Yoram Hazony, an award-winning political theorist, is the chairman of the Edmund Burke Foundation in Washington and the president of the Herzl Institute in Jerusalem. His previous book, The Virtue of Nationalism (Basic Books, 2018), was named Conservative Book of the Year for 2019 by the Intercollegiate Studies Institute and has been translated into half a dozen languages. He appears frequently in the U.S. media, including the Wall Street Journal, New York Times, Fox News, CNN, NPR, Time, The New Republic, The Ben Shapiro Show, and the Rubin Report. A graduate of Princeton University (B.A.) and Rutgers (Ph.D.), Hazony lives in Jerusalem with his wife and children.
Praise For…
---
"The most convincing and thorough evisceration and dismissal of Enlightenment political thought in the last 70 years."

— Michael McKenna, Washington Times

"A magisterial book by an important conservative intellectual. To conceptualize and defend as sweeping a political philosophy as Hazony does is a real accomplishment."

— Matthew McManus, Liberal Currents

"A brilliant, moving, and compelling account of what it means to be a conservative in today's world."

— Ben Dunson, American Reformer

"An astonishing essay in political anthropology… It is not often that a reviewer reaches for the word 'masterpiece,' but this is one book where the word is warranted."

–Bradford Littlejohn, Law and Liberty

"For the first time in a generation or more, American readers are presented with a full-fledged and non-Lockean conservative political theory… I believe my undergraduates would call this book 'based.'"

— Daniel Burns, Public Discourse

"An impressive and heroic work."

— Paul Krause, Voegelin View

"Steeped in history, framed with well-defined concepts, and presented in crystal clear prose, Hazony's powerful vision of conservatism for the twenty-first century is capable of steering the ship of state out of our present perils."

— R. R. Reno

"With this astonishing book, Yoram Hazony takes uncontestable leadership of postliberal conservatism, becoming not only its most important public intellectual, but also its passionate prophet. Conservatism: A Rediscovery is the book we have long been waiting for."

— Rod Dreher

"Conservatism: A Rediscovery is a fascinating, erudite, and mind opening work—historically adept, philosophically vital, and clearly written. It's a must-buy and a must-read for anyone who think deeply about liberty, responsibility, and community."

— Ben Shapiro

"The more intellectually forceful challenge to libertarianism comes not from progressives but from conservatives. Yoram Hazony provides that challenge in this lucid exposition of a tradition of conservative nationalism that begins in the Old Testament and passes through George Washington and Alexander Hamilton to our own moment."

— Peter Thiel
UPB open Tuesday through Friday 1PM - 6PM, Saturday Noon - 5pm
2430 Bancroft Way
The store known for serving pure brain food has returned to our old digs for a few months to sell down inventory and bid fare thee well to our decades of in-store customers.
Days and hours subject to change.
Note: This site lists what's available for special order from Ingram Content Group.
Visit our pages at Alibris or Biblio to survey in-store stock priced above $19.95.
Discount applies only to in-store purchases.
Cafe Ohlone
Once hosted by UPB, Cafe Ohlone now serves guests outside the Hearst Museum of Anthropology on the Cal campus.
Savor the foods which characterized east bay cuisine for thousands of years, before European contact. Brought to you by Mak'amham.