Murder In The Streets: A White Choctaw Witness To The 1921 Tulsa Race Massacre (Paperback)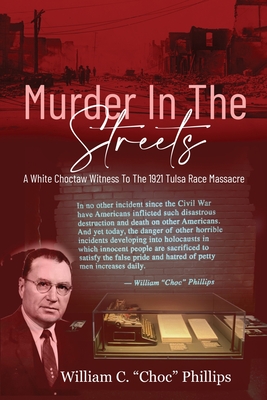 $17.95

Ships from Warehouse, Usually in 1-8 Days
Description
---
The 1921 Tulsa Race Massacre occurred over two days, May 30 and June 1, 1921, when a white mob destroyed the African American section of Tulsa, Okla., known as the Greenwood District. As a result, more than 1,250 homes and businesses were destroyed, thirty-five square blocks of Tulsa leveled, and hundreds of innocent people were injured or dead.
There have been numerous books and news articles written about the 1921 Tulsa Race Massacre, but most of the first-person accounts were given by African Americans. However, William C. "Choc" Phillips was part white and part Native American and an eyewitness to one of the most violent episodes in the history of the United States.
A teenager and high school student at the time of the 1921 Tulsa Race Massacre, Phillips was present when the violence ignited in front of the Tulsa Courthouse and throughout the destruction that followed.
Phillips and a group of high school friends traveled the streets of Tulsa during the night of May 30 and the day on June 1. At times they were trying to get a better view of what was happening and at times trying to escape the lawlessness. They saw people murdered, buildings torched, and people treated as less than human.
The incident left a lasting impression on Phillips, and over the years, he researched and wrote his account of the 1921 Tulsa Race Massacre. He read most of the news accounts of the time and, in later years, interviewed other eyewitnesses of the devastation. Phillips attempted to make sense of what had happened and give a balanced report of the event.
Phillips was never able to get his manuscript published when it was completed in the 1980s. Despite the death and destruction, after the passing of sixty years, the 1921 Tulsa Race Massacre was not a well-known event on a national level. It was as if people wanted to pretend the violence never happened or, at the very least, forget about it.
In 2021 Greenwood Rising opened in Tulsa to commemorate the 100th anniversary of the 1921 Tulsa Race Massacre and, more importantly, to educate the public. Officials with Greenwood Rising thought William C. "Choc" Phillips' account was important enough to create a display that showcases the original manuscript and the typewriter that produced it.