Lest He Esteem Thee to Be His Enemy: the Autobiography of Gary Wayne Pendleton (Paperback)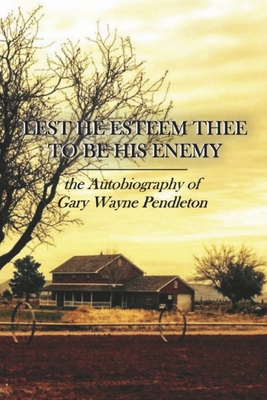 $27.95

Ships from Warehouse, Usually in 1-8 Days
Description
---
Initially, my objective was simply to leave something of a personal history for the benefit of my children and their children. The effort has been undertaken in the midst of political and social turmoil, the nature and intensity of which I have never before witnessed. This has shaped the narrative and modified the objective.

In recent years, we seem to have come to see, as a virtue, the willingness to vilify fellow citizens who don't share our political views or our religious beliefs. Many of us no longer distinguish between religion and politics, between that to which we would personally aspire and restrictions we think we are duty-bound to impose upon others. We condemn those we used to, but are no longer able to ignore. We do all this in the name of God and pile on when anyone suggests we have been less than charitable or something other than Christlike.

I am determined to leave documentary evidence of where I have stood in these troubled times. I don't want my children and grandchildren to wonder what I believe concerning their obligation to their fellow human beings and their duty as citizens of the Republic.
About the Author
---
Gary Pendleton spent his childhood in San Juan County, Utah, and his social adolescence in Clark County, Nevada. In 1978, he began practicing law in St. George, Utah, where he still does some criminal defense work.