The Greening of America's Building Codes: Promises and Paradoxes (Paperback)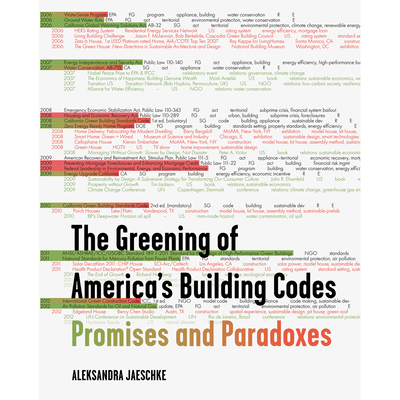 $29.95

Ships from Warehouse, Usually in 1-8 Days
Description
---
Environmental disasters and severe weather due to climate change, both triggered by human actions, have had an increasingly direct impact on our homes. But the way in which America builds its homes is part of the problem. This deeply researched history of sustainable design standards in building codes explores how public policy, standard-setting trade associations, and financial incentives influence the ways in which the construction of our homes impacts the environment.

The Greening of America's Building Codes investigates the regulations and economic incentives meant to control the environmental impact of contemporary construction practices as it analyzes the history of residential building codes. The book exposes how the socioeconomic and political forces that influenced early building code development continue to define the character of current building codes and, by extension, determine how we regulate environmental impact and define sustainability today.

More relevant than ever, The Greening of America's Building Codes is a valuable tool for architects, architecture students, builders, real estate developers, and homeowners who want to understand how public policy and their own day-to-day decisions impact the environment.
 
 
About the Author
---
Aleksandra Jaeschke is an architect and assistant professor of architecture and sustainable design at The University of Texas at Austin. Born in Poland, she earned a doctoral degree from the Harvard University Graduate School of Design (GSD) and an AA Diploma from the Architectural Association in London. Jaeschke is the GSD's 2019 Wheelwright Prize winner.
Praise For…
---
"With the modest term 'predesign' Aleksandra Jaeschke has captured the entire regulatory apparatus of building codes, commercial interests, and the pursuit of growth that engendered the 'green' codes within which architects now work. While we idly celebrate innovations made within the constraints of this apparatus, Jaeschke boldly offers the discipline the possibility of altering the terrain itself, revealing the premises of its formation and instances when designers managed to alter the codes, coding, or tools that condition design."
– William Braham, Director of the Center for Environmental Building + Design, University of Pennsylvania 
"In this highly readable transdisciplinary work, Jaeschke provides something for everyone, from the architect to the urban planner to the environmental historian. She grapples with the path-dependent development of green building standards, which have been heavily embedded in the larger 'sustainability' evolution but which did not fundamentally confront the inherent contradictions of what she calls the 'green spirit' within a pro-growth capitalist system. For anyone whose work concerns sustainability or sustainable development, this is a must read."
– Dan Immergluck, PhD, Professor, Urban Studies Institute, Georgia State University 
"Jaeschke reveals how our current residential codes and sustainable design standards limit progress toward the attainment of environmental health, safety, and welfare at a planetary scale—and, therefore, must be fundamentally reconceived....Impressive in its detail and sobering in its message, Jaeschke's book addresses crucial content that has too long been overlooked."
ARCHITECT Magazine