Thriving in Relationships When You Have Ocd: How to Keep Obsessions and Compulsions from Sabotaging Love, Friendship, and Family Connections (Paperback)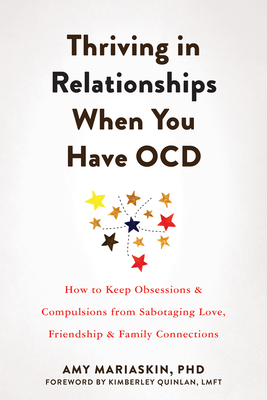 $18.95

Ships from Warehouse, Usually in 1-8 Days
Description
---
Don't let OCD be the third wheel in your relationships This practical guide will help you build and nurture the connections you deserve.
If you have obsessive-compulsive disorder (OCD), you may seek constant reassurance from others, lose time to compulsions, struggle with unwanted thoughts and intense emotions, or act out in ways that are ineffective. These symptoms can put a major strain on your relationships--whether it's with family, friends, partners, or other relationships. And you may feel alone, embarrassed, and ashamed of your symptoms, which can lead to further withdrawal and social isolation. So, how can you reduce the impact of OCD on your relationships?
Drawing on evidence-based practices grounded in cognitive behavioral therapy (CBT), exposure and response prevention therapy (ERP), acceptance and commitment therapy (ACT), and mindful self-compassion, psychologist Amy Mariaskin offers a comprehensive guide for managing your toughest symptoms--before they hijack your relationships. With this book, you'll find hands-on skills to move toward what you truly want in your relationships and strengthen feelings of intimacy, trust, and connectedness. And finally, you'll learn how to cultivate self-compassion, mindfulness, and curiosity--all while challenging the beliefs and behaviors that keep you feeling stuck in isolation.
If you're tired of OCD sabotaging your relationships, this book will help you take control of your symptoms--and your life.
About the Author
---
Amy Mariaskin, PhD, is a licensed clinical psychologist with fifteen years of experience treating obsessive-compulsive disorder (OCD), anxiety, and related disorders. She is founding director of the Nashville OCD & Anxiety Treatment Center, faculty of the International OCD Foundation's Behavior Therapy Training Institute, and adjunct professor at Vanderbilt University. Mariaskin has provided individual and group therapy to adults, adolescents, children, and families affected by these disorders. She strives to create a sensitive and affirming therapeutic experience for her clients, and incorporates humor and creativity into evidence-based practice.Foreword writer Kimberley Quinlan, LMFT, is a psychotherapist in private practice specializing in the treatment of obsessive-compulsive disorder (OCD) and related disorders. She is host of the Your Anxiety Toolkit podcast, and founder of www.cbtschool.com--an online psychoeducation platform for OCD, anxiety disorders, and body-focused repetitive behaviors (BFRBs).