Racial Justice: The Insights You Need from Harvard Business Review (Paperback)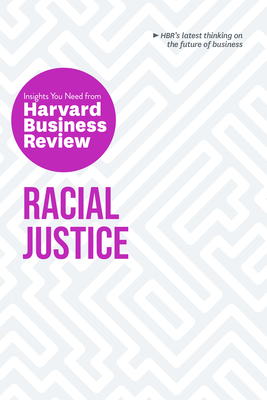 $22.95

Ships from Warehouse, Usually in 1-8 Days
Description
---
Seize this moment to advance racial justice at your organization.
In the wake of widespread anti-racism demonstrations across the world, many companies have spoken out forcefully. They've made unprecedented commitments to equity and launched ad campaigns and task forces to counter racism, especially anti-Black racism. But now comes the real testharnessing the energy of this moment to further and sustain change for the better.
Racial Justice: The Insights You Need from Harvard Business Review will help you combat racism and bias throughout your company, revitalize your diversity and inclusion efforts, and lead the conversations necessary to bring your organization a step closer to racial equity.
Business is changing. Will you adapt or be left behind?
Get up to speed and deepen your understanding of the topics that are shaping your company's future with the Insights You Need from Harvard Business Review series. Featuring HBR's smartest thinking on fast-moving issuesblockchain, cybersecurity, AI, and moreeach book provides the foundational introduction and practical case studies your organization needs to compete today and collects the best research, interviews, and analysis to get it ready for tomorrow.
You can't afford to ignore how these issues will transform the landscape of business and society. The Insights You Need series will help you grasp these critical ideasand prepare you and your company for the future.
About the Author
---
Harvard Business Review is the leading destination for smart management thinking. Through its flagship magazine, 12 international licensed editions, books from Harvard Business Review Press, and digital content and tools published on HBR.org, Harvard Business Review provides professionals around the world with rigorous insights and best practices to lead themselves and their organizations more effectively and to make a positive impact.You can find HBR at: hbr.orgTwitter: @HarvardBizLinkedIn: linkedin.com/company/harvard-business-reviewFacebook: @HBRInstagram: @harvard_business_reviewYouTube: youtube.com/user/harvardbusinessreview