Read People Like a Book: How to Analyze, Understand, and Predict People's Emotions, Thoughts, Intentions, and Behaviors (Paperback)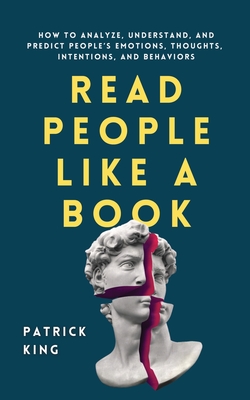 $20.99

Ships from Warehouse, Usually in 1-8 Days
Description
---
Speed read people, decipher body language, detect lies, and understand human nature.
Is it possible to analyze people without them saying a word? Yes, it is. Learn how to become a "mind reader" and forge deep connections.
How to get inside people's heads without them knowing.
Read People Like a Book isn't a normal book on body language of facial expressions. Yes, it includes all of those things, as well as new techniques on how to truly detect lies in your everyday life, but this book is more about understanding human psychology and nature.
We are who we are because of our experiences and pasts, and this guides our habits and behaviors more than anything else. Parts of this book read like the most interesting and applicable psychology textbook you've ever read. Take a look inside yourself and others
Understand the subtle signals that you are sending out and increase your emotional intelligence.
Patrick King is an internationally bestselling author and social skills coach. His writing draws of a variety of sources, from scientific research, academic experience, coaching, and real life experience.
Learn the keys to influencing and persuading others.
-What people's limbs can tell us about their emotions.
-Why lie detecting isn't so reliable when ignoring context.
-Diagnosing personality as a means to understanding motivation.
-Deducing the most with the least amount of information.
-Exactly the kinds of eye contact to use and avoid
Find shortcuts to connect quickly and deeply with strangers.
The art of reading and analyzing people is truly the art of understanding human nature. Consider it like a cheat code that will allow you to see through people's actions and words.
Decode people's thoughts and intentions, and you can go in any direction you want with them.
UPB open Tuesday through Friday 1PM - 6PM, Saturday Noon - 5pm
2430 Bancroft Way
The store known for serving pure brain food has returned to our old digs for a few months to sell down inventory and bid fare thee well to our decades of in-store customers.
Days and hours subject to change.
Note: This site lists what's available for special order from Ingram Content Group.
Visit our pages at Alibris or Biblio to survey in-store stock priced above $19.95.
Discount applies only to in-store purchases.
Cafe Ohlone
Once hosted by UPB, Cafe Ohlone now serves guests outside the Hearst Museum of Anthropology on the Cal campus.
Savor the foods which characterized east bay cuisine for thousands of years, before European contact. Brought to you by Mak'amham.