Christmas delivery ends December 13th
We much appreciate how you've made UPB your holiday shopping destination.
Keep in mind, though, that it can take time for books to arrive at your desired shipping address. Sometimes titles have to cross the country from their warehouse location.
Therefore we recommend that you place your gift orders by December 13th to maximize delivery chances before December 25th.
Nova Europa: Estrategia de Supervivencia Europea En Un Mundo Que Oscurece (Paperback)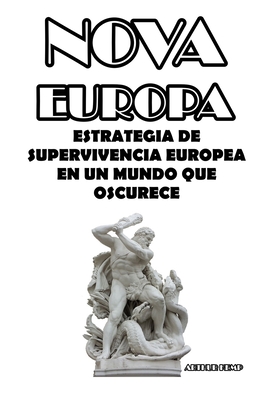 Description
---
Dadas las tendencias demogr ficas actuales, el pueblo europeo ser , en primer lugar, una absoluta minor a dentro de sus propias tierras en los pr ximos treinta a os. Seguidamente, se convertir en una minor a diminuta y poco despu's de eso desaparecer completamente bajo una marea de m's inmigraci n y mestizaje.
La actividad pol tica "tradicional" ha fracasado en poner freno a la marea y ya ha llegado la hora de plantearse una estrategia alternativa que proteja a los europeos en la edad post-occidental. Este libro describe los pasos que hacen falta para conseguir una soluci n pr ctica, a saber, un etnoestado europeo, divorciado del "supremacismo blanco" especialmente.
Bas ndonos en la Historia y en dos ejemplos pr cticos (la ciudad africana de Orania y el estado sionista de Israel), el autor construye un argumento coherente para la creaci n de comunidades locales europeas en primer lugar y, a la larga, para la creaci n de un etnoestado europeo que surja del caos de un planeta "tercer mundializado".
Se trata de una respuesta positiva y pr ctica a la crisis a la que se enfrenta el hombre europeo y que, si se realiza, podr a ofrecerle su nica salvaci n.
Por qu nicamente el pueblo europeo se halla bajo esta amenaza? Cu l es la diferencia respecto a los otros pueblos de la tierra que no se encuentran bajo esta amenaza de extinci n?
La respuesta es sencilla y obvia: todos los dem's pueblos de la tierra tienen n cleos u hogares patrios donde pueden mantener su integridad racial e identidad, sin que importe lo que pueda suceder en el resto del mundo ni hasta qu punto contin a el proceso de mestizaje en otras partes, China siempre ser china. Jap n siempre ser japon's. frica siempre ser africana. Por qu entonces, no hay una patria europea en la que el pueblo europeo sea mayor a, y en el que tenga el derecho inalienable a mantener su identidad racial e integridad? El pueblo europeo necesita un suelo, un hogar patrio, exactamente igual que cualquier otro pueblo de la tierra.