A Basket of Deplorables: What I Saw Inside the Clinton White House (Hardcover)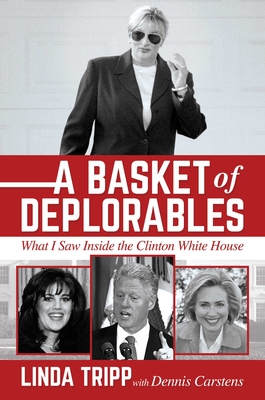 $28.00
Ships from Warehouse, Usually in 1-8 Days
Description
---
As seen on Newsmax TV!

Featured in the New York Post and FoxNews.com!

A compelling insider's look at a political marriage that tore apart the nation and almost destroyed a presidency—from the woman who saw it all happen.

In this brilliantly written behind-the-scenes account, Linda Tripp along with her co-author, Dennis Carstens, shares her side of the Clinton White House sex scandals for the first time—detailing the behavior of two very flawed people who fooled a nation: Bill Clinton, a sexual predator, and his wife, Hillary, who was his primary enabler. In this exposé, Tripp outlines what the public was not allowed to see: the lengths Clintons' protectors would go to lie, deceive, and coverup for them; some of the many women Bill Clinton used his position, privilege, and power as president to sexually abuse; how the former president got away with it thanks to his morally bankrupt, unscrupulous wife and cabal of protectors; and finally, the role party politics played when he was called to task and was almost the first president to be removed from office for perjury and corruption.
About the Author
---
Linda Tripp was a thirty-plus-year civil servant who spent most of her years working in many different capacities within the Department of Defense. She transferred into the White House of George H.W. Bush in April 1991. Linda stayed on as a member of the permanent White House staff for the Clintons in January 1992. She stayed there until transferring back to the Pentagon in the spring of 1994. During her stay in the Clinton White House, Linda had a ringside seat to the Clinton Corruption Circus. For a while she worked for Clinton's main "fixer" Bruce Lindsay within sight of the Oval Office itself. Later she moved upstairs to work for Vince Foster, Hillary's fixer, next door to Hillary's West Wing office. Unlike others who have penned Clinton books, Linda saw it all up close and too personal.

Dennis Carstens was born in Worthington, MN, and has lived most of his life in the Twin Cities of Minneapolis and St. Paul. He received a BA from the University of Minnesota and his JD from a highly respected private law school, William Mitchell, in St. Paul. He is also a veteran of the USAF, having served during the Vietnam War but among those fortunate not to have been sent to Vietnam itself. After retiring from the practice of law, he took up writing novels. He is the author of ten legal mystery/courtroom dramas available on Amazon. He has been acclaimed by many other lawyers and judges for his realistic portrayal of trials and what the practice of law is really like. It was through one of these books, Political Justice, that he came to know and eventually work with Linda Tripp.