Out in L.A.: The Red Hot Chili Peppers, 1983 (Hardcover)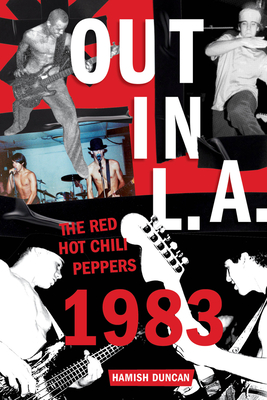 $30.00

Ships from Warehouse, Usually in 1-8 Days
Description
---
The Red Hot Chili Peppers were going to be a one-time act for a friend's album release party.
 
Forty years later the funk rock band is one of the best known and the longest running in the United States.

Everything that happened in 1983 set the course for the rest of the band's career. The scrappy band quickly rose to scene-wide fame, playing all over Los Angeles and gaining fans and media attention wherever they performed. Before the year was out, they had played approximately thirty shows, put together an early, beloved repertoire, recorded a blistering demo that secured them a recording contract with EMI/Enigma, and lost two of their founding members to a rival band.

Out in L.A. is an attempt at finding out exactly what happened during that first year and exploring what it is that makes the Red Hot Chili Peppers so compelling and fresh, even as they continue on their musical journey today.
About the Author
---
Hamish Duncan is the founder of the Red Hot Chili Peppers Sessions Archive website (rhcpsessions.com) and editor of Red Hot Chili Peppers Live Archive (rhcplivearchive.com). He lives in Sydney, Australia.
Praise For…
---
"Hamish delivers
the most comprehensive look at the Red Hot Chili Peppers' first year together
. His account of each show takes you back in time and makes you feel like you are in the small L.A. clubs watching a new band grow in front of your eyes."
—Keith Rothschild, RCA Records Executive
"
A must-have for any serious Red Hot Chili Peppers fan
. A level of detail exceeding even Bob Spitz's work, 
Out in L.A. 
is a single-year focus on the formation and on-goings of the Chili Peppers when they were boys navigating the chaos of 1980s Los Angeles. Deeply informative, deeply entertaining."
—Dan Bogosian, author of Red Hot Chili Peppers FAQ
"This is as close as you will ever get to experiencing the formative year of the Red Hot Chili Peppers. 
With unparalleled insight, Out in L.A. transports you back to the clubs where the band made their name, and puts you front and center
as four young brothers set about changing the musical landscape forever. A truly remarkable achievement."
—Ben and Sam Townsend, Universally Speaking: The Red Hot Chili Peppers Podcast
"Out In L.A. is a detailed look at the nascent stages of the Red Hot Chili Peppers' illustrious career. There's insight on the band members themselves, their peers and fans, as well as the thriving underground scene they helped to create. Done in a unique, gig-by-gig, blow-by-blow style, Hamish Duncan's comprehensive research and  attention to detail brings not just the band's early history to life, but shines a light on the wildly unique party that L.A.—and Hollywood, specifically—was in 1983. This is a must-read for Chili Peppers aficionados, but also for anyone interested in rock 'n' roll history." —Pleasant Gehman, author of  Rock 'n' Roll Witch: A Memoir of Sex Magick, Drugs and Rock 'n' Roll  
"A worthwhile portrait of a band breaking through to the other side." —
Kirkus Reviews
"A feat of painstaking research and a lively look back at a unique moment in music history, Out in L.A. captures the spirit of the Red Hot Chili Peppers's music in all of its rambunctious glory."
—Foreword Reviews
"Duncan's narrative paints a vivid portrait of the band...hardcore Peppers fans will lap it up."
—
Publishers Weekly
"An absolute 'must' for the legions of Red Hot Chili Peppers fans...exceptionally informative, impressively insightful, very well written and unreservedly recommended for personal, professional, community, and academic library American Popular/Rock Music & Musicians collections." 
—Midwest Book Review